My Quest To Find Seven Like-Sized, Flattish Pebbles...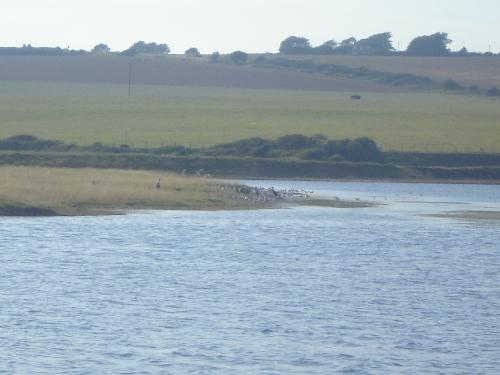 August 5, 2007 11:18pm CST
I had a desire, as some of you know, to go to the beach and find myself seven pebbles with the above attributes. I had three choices in mind, for beaches to visit where I was likely to find pebbles anything like this, which are close to my home. Brighton was out, because on Sundays, almost the whole community of London invades Brighton Beach and Pier and traffic comes to a standstill. That left me with Seaford, which has easy access and Seven Sisters Country Park. I decided on the latter because I haven't been there for a while and it's a lovely place. The one problem, although I enjoy it, is that there is a two mile walk to the actual beach, alongside a meandering river. It was quite nice walking down because there was a breeze and lots to see, like shoals of fish swimming in the river, cows, sheep and a huge habitation of varied birds. I saw herons, cormorants, gulls, huge crows, grebe, and swans. I kicked my shoes off and walked all the way down on the grass, which I often do as it gives me a sense of freedom and connects me with the Earth. When I reached the beach, I sat for a while on a concrete block, then proceeded to comb the beach for my pebbles. It took about half a mile of pebble treading to find the seven, but I succeeded. I took some photos, left my balancing "thank you" gift, and then proceeded to walk back the two miles with my pebbles in hand. They're not as black as I would like them... more grey, so I will have to paint them black, I think, before decorating them. Then, I'm going to make a largish purple, velvet pouch to carry them in as a mobile altar. I got home just before nine, knee aching and tired, but I didn't care, I was happy... I had succeeded and had a wonderful evening's walk as well. Do any of you like to walk in such places?
5 responses


•
6 Aug 07
It's similar to a wetlands park, Lakota. It's very flat, with the river meandering through it, and when the tide is particularly high, it floods over. It's quite a big river and there is a camping site closeby, as it's on a nature trail across the South Downs Way. There is a canoeing club there also, but no canoes were out yesterday... it was probably a bit late in the day. It's a lovely, expansive area, cut into the hills by water, with lots of wildlife... peaceful too. People go off down to the cliff area of the beach and have barbecues and stuff. It gets quite busy on a warm day, or indeed, evening. Brightest Blessings. xx


•
7 Aug 07
Honey it really does sound like a wonderful evening - I do hope your knee is better now! I used to love this type of walk and know that I will again! This is one of the many reasons I love to read your posts - I so appreciate you letting me tag along with you on these outings! Thanks again Honey and well done! xxx

•
7 Aug 07
Yes, my knee is back to normal now, thank you, Mummymo. It isn't used to such long walks now, and I feel that if I strengthen it a bit, it will make life easier when walking places. I need to get back into walking again because I don't do it nearly so much as I used to. I used to walk about 7 miles, every afternoon, but since my knee started troubling me, that hasn't happened. Brightest Blessings, my friend. xxx

• United States
6 Aug 07
I love to walk and find things on the beachs. I love the ocean best but have to settle for fresh water lakes here. I love the smell and the feel of the sand. I love the way the breeze feels off the water. And to be out in a canoe when the sunsets is a wonderful thing. xoxoxoxoxo

•
7 Aug 07
I like to take off my shoes, tuck up my skirt and paddle in the edge of the water, feeling the sand between my toes. There's something quite invigorating about sea water. I also like the things you describe... even the smell of the seaweed, which is very strong in some places. Combing the beach for nice shells and unusual stones amuses me too. Brightest Blessings, my friend. xxx

• Edinburgh, Scotland
6 Aug 07
If you were going to look for seven like sized pebbles on any beach and you colour them black, then surely any colour of the same size and shape would do. Obviously getting them all the same colour colour of black from the beach is difficult but at least they would all be a natural colour, of which was the prime intention . no?

•
6 Aug 07
Any colour might have done, but the finished effect would possibly have been different, and I have my reasons for wanting black ones. There are black ones on Whitby beach but methinks that's a bit of a trek just for pebbles and once I've made up my mind about something I want, it's difficult for any amount of reasoning to shift it, my dear friend. :P. I can become very focus and determined, ya know! I was hoping that there might be some black ones but I settled for grey, which I could darken. Yes, I could probably have them tumbled and shining a deeper colour but it would take away the powers, which is my prime reasoning. I could have bought seven black ones, but they wouldn't be empowered so strongly by me, or I could have settled for a different, significant colour for each Element, but again, that idea faded, as green is not an easy colour to find. lol. So... I have all grey, a good size for my needs, and my first project is to paint them all black with acrylic paint. I'm quite happy to do that... pass the rubber gloves! :) Brightest Blessings, my dear friend and thank you for your input.

•
6 Aug 07
I envy you these lovely walks pal , I used to love to go for walks , Iloved to ride my bike too and did so for many a happy year , I now go by car but I still like to go to the beach , I take my camera too , Lately though it has more been the hills and mountains I have been taking pictures of as it has been too cold for beaches , Thanks again for sharing , and writing it so as I can immagine you doing all of it ,xx

•
7 Aug 07
When I lived in Brighton, it was easy to walk down to the seafront, and every Sunday, I used to walk the kids down to the Marina, then right along the seafront, to Hove bowling alley. Then we would turn around and walk back, sometimes combing the beach for shells and unusual pebbles, and occasionally stopping for a drink or ice cream. We did that every Sunday, without fail, whatever the weather. In fact, the times I liked best were when there was a drizzly rain because it refreshed you. Those were the days. Now, I prefer walking in the countryside and on the Downs, but sometimes in the Summer, it's nice to walk along the beach, especially in areas where it doesn't get crowded with visitors. Brightest Blessings, my friend. xxx