did this happened to you those who aren't english native speakers?

Romania
August 6, 2007 5:04pm CST
i wonder if happened to you to start thinking in english .i can say that this happened to me since i write here so often i start my thoughts in englishand then pass through romanian.sometimes i stsrt talking to my partner in english but he can't understand me and he asks me what happened to me talking foreign languages to him.by the way that's a good thing to me cause i haven't practiced my english for a few years and i was afraid i forgot it but luckily i still know a little bit so i can talk to you wherever you are from all over the world is wonderful how we get here together as in a big family i guess.how about you?how do you feel and which was the influence of mylot and english speaking(in fact writing) to your outside life?
4 responses

• Portugal
7 Aug 07
actually that happens to me too!!! its soo funny!! i once picked up my phone and made my greeting in english!! now how embarrassing was that!!!?? :D its really good to develop some talking skills, but what i find harder is to write i keep on thinking im repeating the same words all the time ... guess i need a dictionary so i can find different words with the same meaning and start using them instead of the common ones!!

• Romania
8 Aug 07
i was trying to don't use the dictionary cause i want to exercise my old skills from school so i can see if i can take conversation by my own.hope u all understand what i am saying through my posts.

• Portugal
8 Aug 07
don't worry ur english is good!! :D i know i worry about my writing and talking skills too, cause its not easy when u r thinking in 2 languages! it can be a little confusing!

• China
7 Aug 07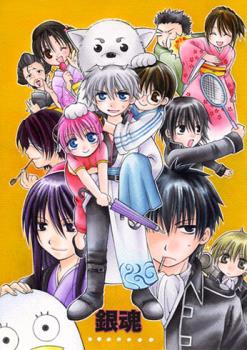 Hi,andrejuly84! My mother tongue is Chinese so for me,I have encountered the similar problems as you mentioned above. Once I posted a response to a discussion but later I received an email from the Mylotter who started the discussion.In the email,he asked me the meaning of a phrase I wrote in my response.And then I checked my response as soon as possible,well,I just wanted to encourage him but what I wrote down was something meaningless. I was ashamed for my poor English for a moment,and from then on,I paid attention on my expression,but sometimes,what I responded still misunderstood by others,lol. Well,I believe this problem is common on Mylot.com because there are so many users from different countries. Happy mylotting.

• China
7 Aug 07
Why?This is the second time the image I uploaded for Gintama appeared under my response!!!!!!!!Insane!!!!! Well,just a gift for you :),hope you like it.But maybe you know nothing about this anime work,well,it is okay.Forgive me,I'm just crazy. Happy Mylotting,my friend!

• Romania
8 Aug 07
thanks for your answer.don't know what the image you post t means but it's nice.happy mylotting too!

• India
7 Aug 07
This happend to me too.I havent talked in english for 6 years.I was taking nice when i was in college.Now am in a village and nobody understands english here.So i used to speak to them in telugu that is my local language.When i joined here i started thinking and searching for words in english to post.Now i feel better and have to improve more.Moreover sentence formation in english is completely opposite to my native language.It was really hard to me to learn english in my childhood.Smiles...

•
7 Aug 07
That is an interesting point you make. I once lived in Spain and learned to speak the language. Whilst I was over there, after a while I found myself thinking in Spanish also. I then returned to the UK and after a few months of being home, it all just disappeared - but it wasn't immediate. I still found myself looking at say a house and thinking "casa" and thinking "bueno" when I felt something was good. When I returned to Spain a few years later, I could hardly understand anybody for a while, then suddenly I could again.. The brain stores information that sometimes finds it hard to come back to the surface. You speak English very well btw, :-)