Blueberry pie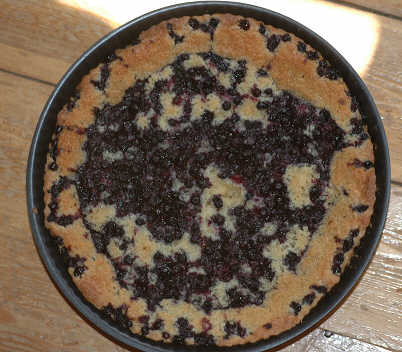 Sweden
August 7, 2007 11:15am CST
Today i get some time ower so I whent out and pick some blueberry and nowe I hawe made a bluberry pie so I hawe something nice to eate in the evning I will eate it with vanilla sauce I realy love this cind of pie. What about you do you make berry pie and howe do you eate them?
7 responses

• United States
26 Aug 07
Oh my goodness, this looks delicious! Yummy, I would love to have some of it. I have had bluberry muffins, but I don't think I have actually ever had a blueberry pie. Boy does it look good!

• United States
26 Aug 07
Thank you. I will look for the recipe.

• United States
7 Aug 07
i love blueberry pie,but i never made one.how do you make yours.can you share that with me.thanks.

• United States
7 Aug 07
thanks so much,and thanks for replying back.

• China
8 Aug 07
Blueberry cheese cake is my all-time favorite,but I have never tried blueberry pie.It looks great!I guess it must be tasty as well,right?To be frank.I dont know how to make it and its hard to find blueberry here in my city:-(


• United States
7 Aug 07
Oh I love blueberries. Blueberry anything, really. Blueberry pie is so good, but I'm a bigger fan of blueberry cheesecake. Most pies that I eat I just eat plain or with whipped cream. Sometimes I like them with ice cream, but not often. That's usually reserved for apple or peach.

• United States
7 Aug 07
That looks delicious! I am not a real big fan of pies, but I do like blueberry pie with vanilla ice cream. Yum! Nothing beats a fresh fruit pie. I do like peach cobbler too, now that I think about it. I'm getting hungry now.:P

• United States
8 Aug 07
My grama always made blueberry pies and cakes. I haven't made any but they are very good. We ate ours with vanilla ice cream, or cool whip..