Do you wake your 16 year old child for schools in the mornings when they want?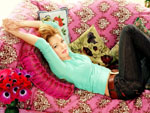 Sweden
August 20, 2007 4:14am CST
Last night my son said - mum, you have to wake me up early in the morning. I will meet a friend before I go to school. I hade just come home from work. I hade biked home from work. It take about 30 minutes to make that trip home. I do not work until this afternoon so usally I do not have to go up before seven when My son go to school. It was his first day after summerbrake. He has been a bit worried for a week now since it is a new school and new teachers, A higer grade. He should not be at school until half past nine today. So I thouhgt I could sleep a bit longer this morning. But He wanted me to get up at make shore he came up in time. Usally I do wake up early but since I have got a new bed I probably sleept well so I did not hear the clock. But he got in time, but was a bit angry becouse he missed his friend. However, I woked up one time in the midnight, he still was awake and using the computer. So my thinking are that he have to take this on his own. If he hade gone to sleep in time, he probably would have waken up on his own. What about you mums, do you really wake your 16 year old child for school?
4 responses

• Philippines
20 Aug 07
Hi there.. I can really relate to this topic since I always tell my mom what time she should wake me up for school and for other things maybe. Yeah, I may be selfish at times but I really have no idea what my mother's reactions are about waking me up early because she always wake up early in the morning like about 4-5 a.m.. she has a routine.. so I think it's just okay for her even though maybe she wants to sleep more.. Also, yeah.. It's partly our fault why we can't wake up early since I usually use the computer upto midnight. That is why I can't wake up early.

• Sweden
21 Aug 07
Well, I guess this is a common thing for the teens. I hope you do let your mother have her sleep sometimes. I usually get up very early in the mornings to, but sometimes i oversleep. Perhaps it is becouse I do work in evenings and when I do have the mornings of I relax so much that I let my self sleep longer than I usually do. I hope you are graeful to your mum doing that for you. Have a nice day

• Philippines
21 Aug 07
Hi.. Yes! I am grateful for having such a hardworking and understanding mom. Just like you do. I hope your son feels the same. Even though we may not show what we feel to our moms, we still love them, :)

• Australia
21 Aug 07
If it is for something important i do, but to meet a friend, i would tell them to set their own alarm. He is old enough to get himself ready for school. If he wanted to get up early he should of also gone to bed earlier. You have to work, and need your sleep as well. Best wishes to you, anetteh

• Sweden
23 Aug 07
Thank you for responding. I am glad you say that. Becouse I feel that i really is old enough to get up on his own. However, his ADHD are a problem, and unfortunately I have to be the responsible one in the family since I am singel and have the parents responsibility alone.

• United States
20 Aug 07
Today is the first day back to school for kids as well. They are 16 and 14. I had the same problem last night. At midnight they were still up ( both of them in the olderones room) trying on clothes and listening to the stereo. I had told them lights out at 11. Then the 14 year old asks me to make sure she is up on time! pffft! Tonight bedtime is 9pm! Maybe they will learn. :) haha yeah right....teens learn?

• Sweden
21 Aug 07
What should a mother do. Here was the same thing. Last night however he still sat by the computer when I came home from work. I wlrk evnings so sometimes I get home late. But since I wanted the computer he had to go to bed. I found him sleeping very soon. So he was tired. Today, I had to get up for work early so he will get up in time.

• Australia
20 Aug 07
In this case, I think that your son was being selfish and not caring about your needs. As the child in this case, i would sometimes request that my mother or father woke me up early, as they would already be awake.