Do you get upset when you hear the weatherreport?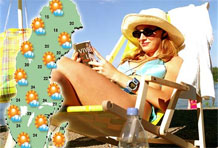 Sweden
August 25, 2007 2:10pm CST
Sometimes when I see the weathernews I do get upset. This becouse I usally have made up plans for the day. The weather are sometimes important for the tasks that I have made plans for. However we can not do anything about it, just get upset and forget about the plan for the day. Or can we?
1 response


• Sweden
27 Aug 07
In the winter I never make any plans. I do not like that time of the year. Stay inside as much as I can. It´s cold, It´s also scary to walk for the icy streets. Therefore I do not go out for walks. If I have to go, I take the bus, car and so forth. Thansk for responding.