Hazy, Dewy, Colourful Autumn Mornings.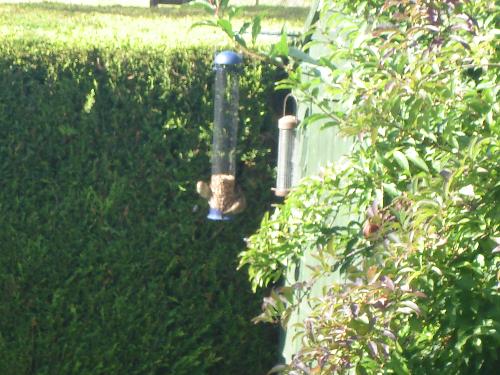 October 5, 2007 6:41pm CST
We're well into Autumn now... a time that I love. I suppose the fact that I'm an Autumn Child has something to do with that, but it's my most favourite Season. I like to go out and stroll around the garden in the early Autumn morning, when a watery sun is rising behind a curtain of dewy mist, cobwebs shine silver in the hedges, bejewelled with glittering dewdrops. Leaves show red, yellow, orange and green beneath the rising Sun and red berries and brown nuts are plentiful, dotting the still-green trees. The dawn chorus has heralded the sunrise and now there's a predominant sound of cawing from the crows, and chattering from the magpies. Bluet*ts and Great T*ts hang precariously from the peanut feeder on a green shed in the garden... everywhere a warm glow in the early morning Autumn mist. Avenues of colourful carpet wind across the countryside and squirrels are busily collecting beech nuts, acorns and hazelnuts for their winter store. Ohhhhhhhhhh, do I love Autumn. Of course, I like Yule as well! In fact, every Season holds its treasures. What is your favourite time of year and why?
7 responses


•
6 Oct 07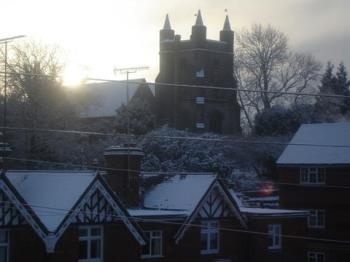 Wow, that's early! We rarely get snow here, and not until later in the year or early next year. Even when we do, it's not much and doesn't stay long. Here's a pic of some snow we had in February, this year. I like this one because the Sun is coming up behind the church, pale and watery, on a snowy morning. Enjoy.


•
6 Oct 07
I am like you pal , I like them all , but mostly now , I love to se all the lovely autumn colours , we were only commenting on that today , Our neighbour has an Ivy grows all up the front of his house , every year we watch it change colour before he lops it off , and the next year it all starts again, xx

•
6 Oct 07
My son used to have a vine growing up his garden wall. It used to turn a deep red in the Autumn... it was beautiful. I think all those colours, red, orange and golds represent fire, and are therefore warming in the colder weather. They also brighten up otherwise dreary days and make you feel so much better. Brightest Blessings my dear friend. xx


• United States
30 Oct 07
I would have to say spring/summer because i get to do alot of more stuff outside with my family and the cook outs are really great too.i love the warm weather and its just so relaxing to me just to sit there and chill out.also i can go to the beaches and i really enjoy that alot,with all the sand castles and stuff we build its really cool.i think the autum is great because of all the leafs changing and stuff and very refreshing as well but i prefer the warmer weather.have a great day hon,hope you are good.love,pattie

•
30 Oct 07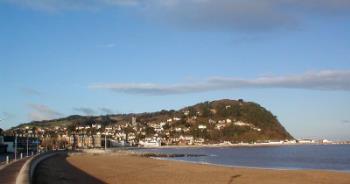 Well yeah, I like all seasons really. lol. This beach is a nice, sandy one on the estuary of the River Severn, in the south west of England. Across the other side of the estuary is Wales, which you can see quite well on a clear day, or night. Do your kids bury you in the sand? lol. Brightest Blessings, my friend. I am find... hope you are too. xx

• United States
31 Oct 07
yes they tried once to do it last year but when they got half way through i had to go to the bathroom lol it was too funny trying to get out of all of that sand in such a rush.but the sand wasn't a fun feelin forsure but it was for them so it was worth everything to me to see their smiles.pattie

•
6 Oct 07
What a beautiful post! Funny you say you love Autumn the best because you are an Autumn child - I am a Spring child, and I undoubtedly like Spring the best. I love the fact that everything is so fresh and new - fresh green leaves spouting everywhere, the birds singing their mating songs, lambs fambolling in the fields, and the bright Spring slowers like lovely yellow daffodils nodding their heads in the breeze. I love the way the sky is clear and blue, and the evenings are getting longer and lighter, but without the harshness of Midsummer, with the dryness, heat and brown grass. I am not so much a lover of Autumn - the colours are indeed glorious, but I find it very sad and somewhat depressing and very refective - everything is dying off and another year is almost past - another year older and all that! So in answer to your question - my favourite time is definately Spring!

•
6 Oct 07

Yes, I think we all like the season we were born in.:) I like Autumn because of the colours, the temperature and the warmth of everything. You might like to read a poem I wrote about Spring and let me have your views? It's written from pagan thoughts, of course but most beliefs are basic ones, so I hope you enjoy it. Spring Turn of the Wheel, begin again with the season of rebirth, Bulbs and corms push up their shoots from underneath the earth In preparation to present a sheet of vivid gold, Whilst dots of green in trees are seen, as new leaves do unfold. The sun shines down, the light rain falls, nurturing the earth, The new life stirs, pushes again, increasing in height and girth, Then suddenly and silently, it can't hold back any more, The buds all burst, and a colour splash, covers the country floor. Leaves on the trees break open, bathing themselves in the sun, Children rejoice, run and leap for Spring has just begun, Playfully the newborn leaves flutter and dance in the breeze, Crocuses, daffodils, snowdrops of white, bloom beneath the trees. And so is born a brand new life, the Wheel's Turn begins again, Stronger the Sun, warmer the breeze and softer becomes the rain, Rabbits are scurrying, bleating new lambs, foals are finding their feet, Birds are gathering in the trees, singing their songs so sweet. Spring is here! Spring is here! Waters babble their message of cheer, The distant cuckoo's call echoes the message so clear, The church bells are chiming merrily, a newly-born baby cries As Spring begins, a tear of joy I wipe from beneath my eyes. Copyright © By Darkwing And if, perchance you enjoyed that and would like to read the other season's poems or any others from my collection, please feel free to visit my site. www.freewebs.com/darkwing3 Brightest Blessings.

•
6 Oct 07
I enjoyed the poem very much Darkwing - thanks for sharing it with me, and I have bookmarked your page of other poems. Though I am not Pagan myself, I do find I have a lot with the thoughts and beliefs of Pagansim - much more than I dp with so-called "conventional" religion. One of my plans for when I give up work and have more time, is to read about it and try and study it in a lot more detail.

•
6 Oct 07
It's good to read up on all sorts of beliefs and traditions. The effort is never wasted even if you don't agree with it, because you've gained wisdom into what others believe. Not all my poems are pagan orientated but the season ones relate to the turn of the Wheel (of the year). I'm glad you enjoyed that one, and hope you might enjoy more when you feel you have time for them. Thank you Rosie, and Brightest Blessings.

• Canada
6 Oct 07
Funny, looks like everyone loves Autumn, It's also my favorite season, mostly because of the colors, the perfect temperatures and ohhhh halloween, something about halloween just makes me feel perfect. your an amazing writer you know.

•
6 Oct 07
Here, we often get quite a bit of wind and rain in October, but so far, this year, it's been sunny during the day, but colder at night. I like Halloween/Samhain best too because it gives me a warm feeling and spirits of friends and family call in... truly. Last year, a girlfriend called back. It was great having them here. Thank you for the compliment about my writing. Brightest Blessings, my friend. x

• Canada
6 Oct 07
Here this autumn and for like half of the summer or more it's been bitter cold, it's already falling below 0 celcius at night, and rarely goes anywhere above +5 during the day. Oh Well, something about the feeling of autum, just makes it okay :)

• United States
6 Oct 07
We have very little autumn here. In fact, we will be in the 90's next week. Was down to upper 80's this week and I had my fingers crossed. Oh well. We are going to Arkansas in November so I will get to see some pretty leaves and some cooler weather.

•
7 Oct 07
It sounds pretty hot there in Louisiana. I don't know whether my fair skin could stand that for too long, but Arkansas will be a nice trip for you. I have a couple of friends who live there at the foot of the mountains, and it looks really nice. I hope you enjoy your break. Brightest Blessings.

• Australia
6 Oct 07
You have described Autumn so beautiful, and i totally agree with it. Its a wonderful part of the year. Its hard to say which season i like best, cause they all have special things. But if i picked my least favourite it would probably be summer, because the heat gets to me, but i love the long days. I love rugging up in winter, spring is really refreshing with new growth and chirping birds. We are in spring now. In autumn i love the change of colour and the leaves falling, even though they are a bit messy. Best wishes to you, Darkwing, and take care

•
6 Oct 07
You're quite similar to me, my friend. I like all the seasons too, and for similar reasons. I also like Summer, but then we don't suffer so much heat, and everything stays pretty green apart from the crops. The, as mentioned before, Autumn is my favourite. Brightest Blessings for a good weekend. x