Ever had a Halloween face?

United States
October 24, 2007 4:31pm CST
Some of you may have read my discussion a few days ago about my kitchen sink overflowing and flooding my kitchen and part of my living room. Well, that night I got a headache. I think maybe it was from the amount of cleaning I did. Anyway, that headache turned into one of my migraines. Well, I spent quite a long time with my face in the toilet that night and it isn't that uncommon for me when I have a migraine. I hope I didn't gross you out, I tried to put that as 'least gross' as I could, LOL. Anway, I got sick so hard that the blood vessels in my face and eyes burst. So I look like a Halloween monster. I went to see my parent's today and they did a double take. They have seen me like that before, but not for a while. Anyway, right now the migraine is a dull ache, but I was thinking about my face. It hurts so bad I'm on a liquid only diet. : ) It fits right into this season that we are in. Have you ever done something or had something happened that gave you a face that would frighten? A black eye? A cut? Adult chicken pox? I of course don't mean something a person was born with, I would never make fun of that. But tell me, have you ever had a Halloween face?
10 responses

• Canada
26 Oct 07
Hi ambiepam!Yes the last time i had my wisdom tooth out like 3 years ago.The dentist had to break my tooth out piece by piece with a tool that looked like a screwdriver and little hammer like for a smurf,haha.I had sooo much pain and swelling from it.It made the left side of my face 2 times it normal size from all the swelling,black and blue,even under my eye.I never took no pain killers because of my allergies to them and bared it all the while with a crooked face that finally developed into an infection in my empty hole.Yuck!I couldnt talk for days,it hurt soo much.I did take an anti-inflammatory and it brought the swelling down some.I didnt want to take it at first,i hate medications.I looked like frankenstein all on the left side of my face and the color was the same as it was healing,hahaha.Never again! Peanutjar:)

• Canada
27 Oct 07
Oooh boy!A dual!Stickem up bud!Hahaha.I will tell you another story,hehe.I had an allergic reaction to face cream,you know the kind they sell,its "oli of olay"for wrinkles.Well one night before bed i tried my newly purchased bottle for the first time.Lathered it onto my face and felt a tingling sensation and just figured it was normal since it was the first time i used it and my skin wasnt used to it.Went to bed and after 5 minutes i had to go into the bathroom to see why it still tingled and with a burning sensation.Well mind you when i looked in the mirror my face was swollen and pouffy,haha.I looked like a blow fish!I tried to wash my face and it hurt more with the water.I ended up putting cold ice on my face,especially my cheeks and lips(no colligen needed there,hehe)to help the swelling.Finally it went down some and the next day i went to the hospital becuse i still had swelling but my skin was redish pink.The doctor said the cream had given me a mild burn because the cream was too strong for my sensitive skin.It looked like a sun burn.he gave me special cream and an anti-inflammatory to take the swelling down.I think ive taken alot of those anti-inflammatorys in my life,haha.I never touched this stuff again,let the wrinkles come,i will grow old gracefully,hahaha. Peanutjar:)P.S(I have experienced alot of things in my life,ive been around the block a time or two,not in a badway mind you,haha)


• United States
24 Oct 07
I totaled a car on the freeway back in 1972. I got a relatively minor head injury. My right eye socket filled up with so much blood that it gave me an enormous black eye & I couldn't even open the eye. It even spilled over the bridge of my nose & gave me some discoloration in my left eye. I went to class the day after the accident and a funny little tough guy said "Who beat you up, I kill him." I told him it was a bit late, the car was totaled.

• Philippines
25 Oct 07
I'm glad you're feeling fine now, hope that you get rid of that migraine of your's as quick as possible!;) There's one time that I suffered from toothache, it keeps me awake at night and always went to the bathroom to brush my teeth then take pain relievers from time to time. As much as I want to sleep, I can't, since my gum's swollen. As I looked up on the mirror, I thought (I thaw a putty cat!LoL) I saw someone else. As my hair was a mess and my cheek is bulging, due to that darn toothache!;)

• United States
26 Oct 07
After three days my migraine is gone, and hopefully for good. My face was swollen, my jaw really bad, so I was only eating/drinking liquids because it was painful to chew. So I know that a swollen haw can look far worse than people think. But toothaches are almost as bad as migraines! Oh, I hope you don't have to go through that again.

• Australia
25 Oct 07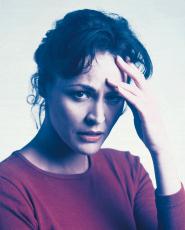 Your migraines sare so bad. Is there not some preventative medication you can take? I am sure I have heard of other people taking some tablets that helps prevent migraines. I have not exactly had a halloween face. Although many years ago, the pelmit above the door fell on my face. It hit my lips, & cause a cut and a nasty messy lump. I didn't look too good for awhile I can tell you.

• United States
25 Oct 07
I used to take a preventative medicine, but when I was put on disability, the insurance would no longer pay for it, and I can't afford it on my own. I think I own just about every pain killing patch available though! Split lips are painful. I bet it hurt to eat!

• Turkmenistan
25 Oct 07
I am so sorry to hear what happened to you. A couple of years ago, I started getting migraines when I am really stressed out. I also get nuaseated, but I have never thrown up, thank God. The migraine that I first got two years ago was so bad that I could not sleep. By the time I decided to take Motrin, I was in tears. I have never popped blood vessels, so I can not imagine that. But once when I was a teenager I tried to arch my eye brows and ended up having to shave them off completely. I looked real funny until they grew back.

• United States
24 Oct 07
No I cant say I have Ambie! I hope you dont have your pumpkin face to long.LOL And you still have a headache?I hope you feel better even thou you have a pumpkin face!LOL

• United States
25 Oct 07
well actually i have and it was not that long ago when my baby kitten scrathed my eye,man it hurt so bad and i had that evil face on for a few hours lol.pattie

• Abernathy, Texas
27 Oct 07
Yes. I worship the porcelin altar many times when I get a migraine - sometimes a few times a week. My eyes look bruised a lot.

• Abernathy, Texas
27 Oct 07
So yeah, I look pretty vampiric (my halloween face) at these times, very pale and bruised.

• Abernathy, Texas
27 Oct 07
Its hard. As much as I don't wish anyone the pain, its kind of nice when I meet a fellow migranine sufferer. Most people don't realize that migraine is a disease headache is only a symptom and the cause is the opposite of headache pain. Have you been here: http://www.migraines.org/myth/mythreal.htm