Do you give away the best responses to lure more friends or

India
11 responses

• India
25 Nov 07
Hi! I do not give away best responses to lure friends.I just go through the content and if I find the response really good I give the rating as the best response.Initially when i got just 5-6 responses itself I used to rate it.Later I found responses still coming in and they seemed better than the one I awarded the BR.Now I have learned to wait for a while and then mark it.But I make sure i mark it as I think I should show my appreciation to those who have taken the time and effort to give a good response.But I find many people not marking their responses.I wonder why?

• United States
24 Nov 07
I wait for a few days to a couple of weeks to give a best response. This is because I want to make sure that all (of most at least) responses are there before I make my decision. I do not think in terms of who is writing the response but rather in terms of how it is written, as long as it seems t me to be the best then I will give it the best response.

• United States
24 Nov 07
What is a lot better response came in a few minutes later. You cannot go back and take away a best response and give it to another person, but if you wait you can be pretty sure that you will give the best response to the best one. After all isn't that what best response is about?


• Turkmenistan
24 Nov 07
Most of the time I give it to the one who deserves it the most. But, if it is too hard to make that decission, I will give it to the one between those two who replies to my responses the most. I really don't see how best response makes a difference though, do you?

• United Kingdom
24 Nov 07
I always try to be fair when giving out best responses, and only award them to the person who has given a very good, interesting and informative reply. I don't like to be biased only to award them to my best friends, if someone I don't know has given a good response then they will get the award. Using BR to lure more friends is not something I would do.

• United States
24 Nov 07
Of course, the deserving ones should be the ones to obtain the best responses.

• Malaysia
25 Nov 07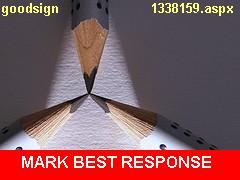 Hi & Hello my friend, Balasri. I give away the 'Mark Best Response' for those who gave me the answer for what I wanted to know and in a very elaborative way to some good extensions that can make me more in making exploration. - - - - - - My 'Copy and Paste' - - - - - - How do I Choose a Best Response? (http://www.mylot.com/o/faq/faq8.aspx#17) - Do not select a best response right away, wait at least a week before choosing a best response. This will give myLot users plenty of time to respond to your discussion topic and will give you a variety of responses to choose from. - Read through each response and chose the response you like the most. - - - - - - 'Copy and Paste' END - - - - - - Happy Postings and Earnings, my friend Balasri. HAPPY DAPPY.

•
24 Nov 07
I give away the best response to deserving replies only, as I think you should work for your 'best responses'. I know, personally, I wouldn't necessarily add someone because they gave me a best response, and I wouldn't expect that from them, either. I add people whose discussions interest me.

• United States
24 Nov 07
When I hand out the Best Response to my discussions that I have started, I choose the response that I like the most that usually fits with the discussion itself. And a lot of the time, it could be handed to people that are not on my friends list as well.

• Saudi Arabia
24 Nov 07
I do give it only for the deserving ones. I give it to those who put the effort in responding to my post. Thanks for ur discussion.

• Delhi, India
24 Nov 07
I give the best response to the deserving ones only. It so happens that most of the time that I find my dear friends here write so beautifully and impressively and I end up finally giving best response to one of my friends' responses here. There is nothing to lure any one by awarding him/her best response.

• India
24 Nov 07
NO, I don't give it to lure more friends. I only give it when I feel that the post pertains to the discussion and the person has given an interesting view point. Sometimes, it is a little confusing when there are quite a few people who have given good (though contrasting) viewpoints. Sometimes, it also happens after I give a BR, someone else comes along (maybe months later) and gives a better response and then I feel guilty for not waiting longer. Wish there was something MyLOt would do about that. There are also some discussions where none of the responses are worth a BR and I don't give it then.