Check out the Jewellery I make. Tell me what you think.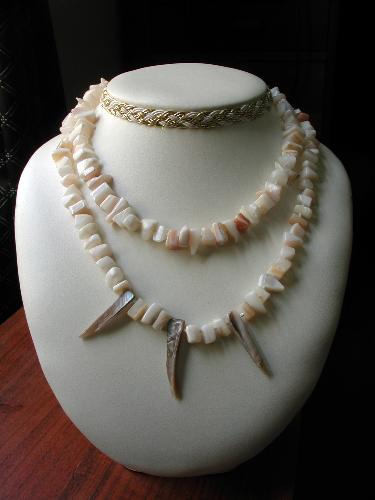 Canada
December 3, 2007 7:44pm CST
I made these necklaces by hand. They are strung professionally in the same manner that pearls would be, with knots between all of the beads. I would say that from design concept to total completion, each necklace takes me from 1 hour to an hour and 45 minutes to make, depending on a variety of factors. I have been wanting to seel my stuff at flea markets but have been haveing trouble getting to any, since I don't drive and my husband never feels like it. I have been considering listing some of my things for sale online but I can't decide if I want to or not. Please take a look at the picture and tell mewhat you think? What you would conisder a fair price? And is this something that you would ever consider purchasing online?
6 responses

• United States
4 Dec 07
I like it Nykkee and I encourage you to keep at this! Either as a time to time business or just as a hobby, you should do things you enjoy. Don't ask me about price though, I really have no idea on that one. If well done maybe $50+. Maybe I say! I would however buy this (within reasonable price of course) for a family member. Good luck with what you choose and have fun with one of your hobbies.

• Hong Kong
30 Mar 08
Hey it's actually very nice! I think you should start selling your products instead of sitting there struggling if you should or not. If you can't get to flea market, it would be best to try to sell online. You could have different price ranges for your different products to test out the customers and to see which sells best! I think you are talented and you should really try setting up a business with your lovely handmade stuff.

• Canada
30 Mar 08
Thank you. I have been considering trying to get set up on Etsy.com I have saved the page to my Favorites but I only have dial up internet and i get irritated and give up when it takes like 2 hours to up load one picture to a website. I habe recenlty been haveing alot of trouble just getting pictures uploaded to Facebook.

• Canada
3 Jan 08
they look awesome... i would totally buy something like this... like i need more necklaces but you can never have enough right.. i would go for the pinks and blues etc... i dont have too many light colored ones like that... good luck to you on what you do with them...

• United States
4 Dec 07
That's very nice. It looks like you have a good talent there. That necklace is quite attractive. Go for it!

• Australia
4 Dec 07
as a rule for flea markets, I would basically double the cost that it cost you for the materials...you could o that & see how much it sells for on eBay...just remember you have to put a price for postage too.