Row, row, row my car gently out of the stream...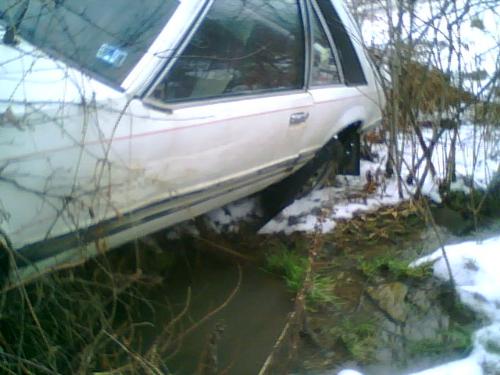 United States
December 11, 2007 1:31pm CST
I figured I'd just share the picture I have of my little stuck in the creek car. I was standing on the bank and had the camera tipped a little...well no I was tipped a little so the photo doesn't really show how tipped sideway the car really is. I have a better one but cell service isn't so good up here and this is the only photo I could get to go through. It's raining now so water is actually running underneath it now. Maybe tomorrow we'll be able to pull it out.
3 responses

• United States
11 Dec 07
Sorry, foxyfire, that you had such an unfortunate thing happen with your car. I was reading the other day that you should always carry a camera in your car, and in your case it came in handy. Hope you will be able to retrieve your little car soon.

• United States
11 Dec 07
I had never heard that tip but it makes a lot of sense. I can think of a lot of times it would come in handy. I didn't have the camera with me at the time but since this all happened right at the bottom of our driveway I just ran down quick today to get some pictures. He's going to talk to his BIL tonight about when the rollback can be brought over to winch it out. He's sure that's the only way. Hopefully it can be done tomorrow or Thursday.

• United States
11 Dec 07
LOL I am not laughing at the car but,at your posting. This is such a bad thing to happen in the snow. I hate snow and hate living in NY. I hope you get your car out soon. Also I hope you are not far from the roads and stores.

• United States
11 Dec 07
This weather certainly is not any fun. We have a second vehiclehere during the day this week so it's not a huge deal but the nearest store is a gas station convenience stare 4 miles from here. The car is at the bottom of our driveway only 20 yards or so from the road BUT the driveway to the houe is 1/5 of a mile long...not too far but far enough when it's all ice.

• United States
11 Dec 07
Wow, foxyfire, I thought it would be worse, like gone under never to return, lol. Even though there is probably some damage, it looks like it can be saved, I hope so..:)