WELCOME To The ZOO!!!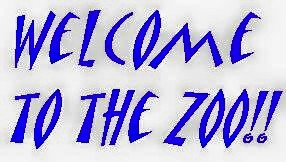 United States
January 3, 2008 11:37am CST
Thats the sign I need above my door. I am a stay at home mom and I watch 6 kids plus my 2. I have a almost 1 year old, a 15 month old, a 2 year old, 2 3 year olds, a 4 year old and 2 5 year olds. On top of that I have 2 dogs and 2 lizards. Yep my house is definatly a zoo! LOL. Our friends have started reffering to our house as the zoo. You know its not hey hows the wife and kid its hey hows the zoo? LOL. My husband thinks im crazy to watch all these kids. Hey the bills need payed and this is a great way to earn extra cash. Plus I get to stay home and play all day! What more could I ask for? The nice thing is all the kids get along pretty well other than the occasional sharing issue and the babys getting into everything. I have potty trained 3 of them plus my own. I have taught them how to get along and be nice to each other. I have taught them how to eat on there own and to use a cup without a lid. I have taught them there colors and numbers, plus many other things. Copperkittens daycare...where everyday is a learning experiance. Its a very exausting job but rewarding at the same time. Trust me when the weekend comes I am so ready to sleep in!! LOL. Whats your opinion? Do you think im crazy? Its ok if you do because I am...LOL!! Have a great Day!
8 responses

• United States
3 Jan 08
Yep, you're crazy but in a good way! I think the only thing I would have trouble with is having more than one baby at a time for a long period of time. The other night I had my 13 1/3 month old with me when I babysat an almost 3 year old and a 2 1/2 month old baby. That got really tricky at times, especially bed time. My baby wanted me but the little one was too little to go to sleep on her own. I sat there trying to nurse mine, hold the bottle for the other one while keeping my baby's wandering hands and feet from hurting her....and all the while the almost 3 year old was laying across the back of the couch behind me playing with my hair...

• United States
3 Jan 08
The only thing I have had a problem with is remembering all there names. I usually mix a couple up each day. They usually look at me and say im not______ im _____! LOL. Sometimes I catch myself combining names then they all look like who the Hell is she talking to? LOL. That sounds like it would be hard to feed both babys at the same time. Both my babies are old enough to do it them selves.

• United States
3 Jan 08
I mix up my own kids' names all the time! Half the time I end up just calling all 4 boys "buddy" because it's easier...but then I call one of the girls buddy and they look at me funny.

• Australia
4 Jan 08
well, i don't think that you are crazy at all... if you enjoy it and like you say that it is a great way to earn extra cash, why not??? i love kids as well and i am thinking of opening a daycare centre as well... i know it will be very tiring but rewarding at the same time like you say... :-) good luck and have fun...

• United States
4 Jan 08
I hope you get your daycare center. I do it right from home and only because I have a huge house. Thanx and good Luck to you too!

• United States
4 Jan 08
Are you actually a licensed day care center? That seems like a lot of kids for one person to be watching. You must be one incredibly patient person. How do you do it? You should write a book, I know people who can't watch one kid and do anything in the house and you have a whole bunch of little ones to watch. I am glad your bills are getting paid.

• United States
4 Jan 08
No Im not licenced but would like to be. It is a lot of kids but I handle them very well. If I feel overwhelmed I call my mom and she comes over to help. I dont really know how I do it I just do it. LOL. I set up rules and limits and they have to follow or they get to sit in time out. I guess its easier with smaller children because they are more easily infulanced..you know like if I say dont push its not nice they dont object just do what they are supposed to. Most days I get the house clean as well but not by myself. I make the kids help pick up to. We make a game of it and they get a snack when were done. The toys get picked up in no time with that many kids! Maybe I should write a book: How to stay patient while caring for many children and still get the chores done. Hum...ya like I have the time to write it all down!! LOL. Thanx again and have a great day!

• United States
4 Jan 08
Your doing a great job with all the little ones. It can be fun but also tiring. A couple of years ago I was watching 7 kids plus my 1. It was a very rewarding job. I love little kids especially the babies. I did it for few years. I don't think it's crazy especially if you love doing it, but I bet your house is a little crazy most of the time.:)

• United States
4 Jan 08
Thank You. Yes its very tiring. By saturday Im so tired I dont want to get out of bed and usually sleep till noon or more. I do love doing it even if there a pain some days! LOL.

• Philippines
4 Jan 08
I don't think you're crazy... i think what you are doing is great... i also love kids and wish that i would be able to put up a day care center in the future... i know a lot of friends who are having trouble finding nannies for their children... i would volunteer but i also have a job... So i thought of a day care center business... but my problem is the money to set it up... i don't have a house of my own just yet and i know that the materials and toys needed would cost a fortune... so right now i envy you quite a bit because you already achieved a lot with the resources and time that you have... Kudos to you!!!

• United States
4 Jan 08
Thank you. I dont own my house but its huge so I have the room I need for all the kids. I dont go out and buy special toys they all play with what we have here. I would Love to be licenced but I dont know how to get started and I dont really have the time to do it. Thanx again and I hope someday you can get your daycare center!

• United States
4 Jan 08
Way to go copperkitten. I think you are doing great and the fact that you are able to teach these kids as well as take care of them during the day is awesome. Keep it up, and every little bit does count!

• United States
4 Jan 08
Thanx. It makes me feel good to teach them something and have them learn it.

• United States
3 Jan 08
I do think you are a little crazy!! I do understand the bills getting paid, and sounds like you enjoy it. It does sound like it could be a zoo at times lol. Good luck with all of it.

• United States
3 Jan 08
Well Thanx! LOL! I do enjoy it most days. I hate days when they are sick and whiny though.

• United States
5 Jan 08
You are absolutely bonkers...what were you thinking?....LOL..I think it is a great idea...I love the two I watch and wouldn't mind having a couple more...It is great fun and very rewarding too!