Have you made anything new? It has been a while since anyone shared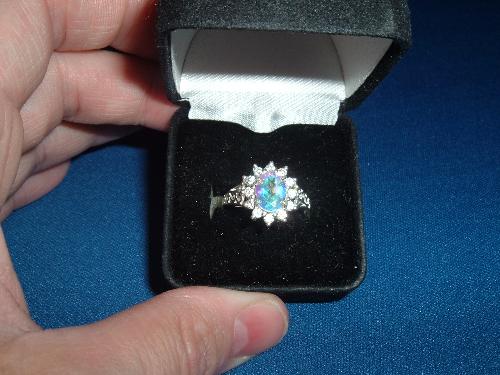 United States
3 responses

• United States
10 Jan 08
Ohhh! That is VERY pretty!! Wonderful job. Where did you learn to create such wonderful jewelry? How long did that take to put together? Can't wait to see what you have for us next!!

• United States
10 Jan 08
Some pieces take longer than others. The longest is finding the right stones as some sellers sell junk plain and simple and getting a nice setting for a decent price. Bracelets are extremely hard and pendants arent much fun either. Rings I am getting quite good at as that is waht i make the most of. I learned because I love gemstones, exotic, rare gemstones, but I couldnt afford them. So I started collecting them and then eventually decided to learn to make jewelry which was trial and error with a lot of errors until I just got it. I couldnt afford classes or anything like that, so I am a self taught jewelry maker lol. My next purchase I hope to be a kit that I saw that would help me to identify my gemstones that I bought in parcels and dont know what they are. It is a fun hobby, and my kids love to look at the gemstones too.

• United States
10 Jan 08
I want to get started with gemstones this year. I've basically stuck to beads and beach glass and haven't done much with gemstones. Where would I find a kit to help identify gemstones. I've come across some at sales and flea markets, but my hubby didn't think the guy was correct (when he was a kid he had a large rock collection-- he knew a little, but has forgotten so much... he claims old age ) I make a lot of earrings and have recently enjoyed bracelets and I'd love to expand my bracelet look with gemstones. I can't wait to see your next piece!

• United States
10 Jan 08
http://cgi.ebay.com/ws/eBayISAPI.dll?ViewItem&rd=1&item=230209534668&ssPageName=STRK:MEWA:IT&ih=013 This kit above is the one I will be purchasing. I am in no way endorsing this seller just showing you the things that will help you. Of all of them the refractometer is by far the most important and useful tool to own. This will be my mothers day gift this year. Also there is a book called Gemstone Identification made Easy. I will be purchasing that as well. Jewelry television sells all these items, but their tools kit was listed at 600 dollars quite a bit more than the ones i found on ebay. Jewelry television also sells the books and their prices are decent for the books. If I can be of any other assistance just ask. I dont mind sharing at all.


• Australia
1 Jul 08
Oh how fantastic is that
mystic fire topaz
- the colours are just out of this world.

You have set it beautifully in the silver. Your friends and family must love you at Christmas and Birthday time - I am sure that you would be a bejewelled lot!

Keep on Creating!

• United States
1 Jul 08
Yes it is a mystic, and it is a pink blue rather than the red green. When I set my gemstones, I use gem setting pliers, and you would need a prong puller. Beyond that, it really is not necessary to have. If you go to ebay or jewelry television and type in gem settting pliers you will get the ones you need. If you go to my jewelry blog at http://www.melissasjewelryandgemstoneblog.blogspot.com each week I add a video tutorial for making jewelry. I will be glad to help you any way I can.

• United States
9 Jan 08
Oh my Gosh! That is so cool! How did youlearn how to do that. I was answering a post earlier today about adding a new hobby and trying to find a way to deal with winter boredom. If I could do something like that it would be amazing. Do you have other pics?

• United States
10 Jan 08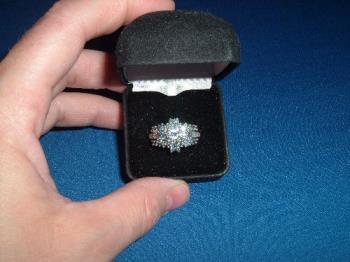 Pendants and bracelets are the hardest, because they hard to grasp while you set the prongs. I think the hardest part was finding places to buy nice quality settings without paying a fortune. Of course i am always learning new things about gemstones, and it is sometimes quite hard to set the stones depending on size and shape and kt weight of the gold. The higher the carat weight the harder it is to set. I like silver for more fragile stones as you decrease the chance of knicking the stone than in say 14k gold which is much tougher to tighten the prongs. Very small stones are extremely hard, that is why it is nice if you can get a setting with the bity tiny stones already set, costs more but is worth it. I have replaced several small stones for friends so it isnt impossible just extremely time consuming, and if you dont have a good light you wont be able to see what you are doing. I have not tried wire wrapping or beading because I just love faceted and cabochon jewelry so I kind of lean towards what I like. Oh yeah and learning how to take good pictures is a killer. I spend a ton of time taking pics. I made my own wedding set. when we got engaged my husband bought me a 10k gold cz solitaire and I was good with that because I knew I could change it later. I now have a pink sappire engagemnt ring and will hopefully someday have a blue diamond one. My wedding band is yellow gold with a demantoid garnet in the center and white topaz on either side. I have a white gold wedding band that we used for the ceremony and I wear that with my silver pieces. I have other pics but they take too long to load.