Nature Watch

Canada
January 10, 2008 9:42am CST
It's a rare occasion to see a bird in the dead of winter here in Canada however this morning I am pleasantly surprise to be surrounded with Chickadees. Our desk overlooks the river and for days I've watched squirrels dig tunnels through the snow. I've been really hoping to see a dear however there is something in the far distance, across the river but I can't make out what it is exactly. Today I've spotted about 6 chickadees. I love sitting at this desk and watch nature do it's thing. How about you?
7 responses

• United States
10 Jan 08
Oh, I envy you. I have always loved to watch birds and animals in their natural settings. Where I live right now is close to a busy street so we dont see too much except for mockingbirds, sparrows and squirrels.Enjoy!

• Canada
10 Jan 08
Oh I love watching hummingbirds!! We have quite a few of them in the summer. You should go to a nature park sometime. It's so much fun to sit and watch the animals. The kids love to sit silently. I even caught a bear on tape once. He was far from us, there was no danger really but it was awesome. The kids also love watching beavers and frogs!

• United States
10 Jan 08
Oh yeah. The Natural History Museum here in Houston has a good exhibit of small creatures, some kind of yucky but what is really cute is to go in the area they have where butterflys fly free. Really nice.

• Canada
10 Jan 08
Butterfly museums are the greatest! Can you hold pieces of oranges and let them feed in your hands? The kids are always so impressed with that! We have one here in town I've never been to however I took the kids to the one 2 hours away... LOL go figure!

• United States
10 Jan 08
Wow. Cool! I've only seen pictures of them. We had 4 wood ducks in our pond for about a half a minute last weekend. Our resident ducks scared them away and I doubt they will be coming back. I love sitting at my desk and watching nature outside the window. I live in the woods so, there is always stuff to see. I've even learned the call of a bald eagle so, when I hear them, I go running outside to get a really good look.

• Canada
10 Jan 08
Oh hun, you are missing something! You have to take a trip to Canada!! Forget spending all that money on adopting a little girl and come here! LOL Just kidding! The kids and I went to a nature camp this summer and they learned all sorts of bird calls. It's quite interesting. As we sat in silence in the woods listening to the different birds, I was quite impressed with one of them. Well I was the laughing stock of the moment because it was a flying squirrel. How was I suppose to know they even made noise?? LOL

• United States
11 Jan 08
I live in western "Taxachussetts" and we have plenty of wildlife here including opossums, raccoons, skunks, fox, bob cats, black bear (these all have come through our small backyard. We also have many different kinds of birds including chickadee, sparrows, blue jays, cardinals, starlings, as well and several kinds of hawks and a pair of bald eagles. I am sure that there are many more but I have not seen them in my back yard.

• Canada
11 Jan 08
I find it so wonderful that you can enjoy that wildlife from your backyard! Thanks for sharing

• Canada
10 Jan 08
Right now all I can see is the white sky and the tops of the trees. My desk is not near the window, my husband's is. If I go to the kitchen, I can sometimes see a fox or the neighborhood feral cat or the neighboring dog, but it is still cold for those birds yet. We do have a family of sparrows that nest above our porch and we also have a rabbit who lives in our backyard, but the computer room is in the front. I love looking out the kitchen window and I do see some strange animals, but not yet. It is still too cold.

• Canada
10 Jan 08
How cold is it in Winnipeg? Aren't you having the same warm front the rest of us are having? lol Foxes are quite popular here as well, not just in the country but cities too. They roam everywhere! Along the highway, I've seen a few wolves and many many deers. I just wish I could see them in my own backyard some day.

• Canada
10 Jan 08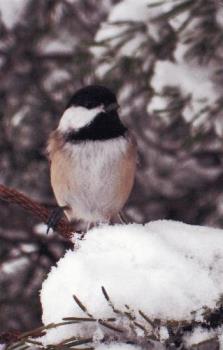 Hi,ive had those cute little things since this fall feeding at my feeders and even coming to the point of trusting me and landing on my hand for some sunflower seeds.They stay here all day,only leaving before night comes and then waiting in the mornign fro me to go fill the feeders.There is alot of wild birds that visit daily.Even the squirrel who has been here for a year,never leaving nesting in our trees that surround our house,digging tunnels under the snow and running out to scare the birds,it s a little mischeifer that one is,haha! Peanutjar:)

• Canada
10 Jan 08
Aw thanks for the picture. I wanted to take a few shots this morning but I couldn't find a chip for the camera! so sad! I think the afternoon sun was too much for them tho because they have left :( I'm back to watching that squirrel again LOL We moved here in the summer. I'm inspired now to go buy a few feeders for my new friends so I can sit here every day and watch them. There's just something about chickadees, they are so cute!!

• United States
11 Jan 08
People thing that I am a fanatic lunatic about Global Warming, but I really believe that is what is happening and why you were seeing your sweet birds this morning. This summer I hung a beautiful plant (the name escapes me) that was to attract hummingbirds. It took about 3 weeks to see the first one. Then I got a glimpse of another one that made me catch my breath and thrown down my phone to go and get a closer look. It was (I can't remember the name of it either - it's 2:00 in the morning) almost a florescent color and very shiny and bright. It was one that I had Never seen before. When my significant other came home I told her about it. She has been an avid bird watcher for some time and told me that I was mistaken because the Ruby Throated Hummingbird was the ONLY hummingbird indiginous to our area. I was sort of furious but how could I prove otherwise. The stinkers fly so quickly you can't take a picture of them. Finally, she was up one morning and we were both watching one of our baby squirrels hopping about from tree to tree when the hummingbird "that I could not possibly have seen" came back to the plant. This time it even brought another with it! She was totally in awe at the sight of it and I did get an apology. A friend of ours also has some wild flowers (moonflowers) that have just appeared in her yard and bloomed this year - they are not suited to our zone either. I am afraid that Nature is really getting out of balance. While it is great to see all of these different things, it is also unnatural. ~Donna

• Canada
11 Jan 08
You'll have to excuse me but I find this whole Global Warming craze a little insane. The earth has been going through changes since day one. Yes the earth is warming up. Yes funny things are happening that we seem to believe is so very strange. I believe it's all part of life, part of the cycle our world must go through to evolve to changing times. We humans adapt to new technologies and machines, why wouldn't we expect the earth & nature to be adapting to it's inhabitants as well? I'm not saying destroying our planet is a good thing. I'm saying Global Warming has been happening since before our time, and will continue to evolve after our time.

• China
11 Jan 08
Hello dear mommoyofalltrades. I can see that because sometimes when it is warm in winter, many sparrows and some other birds can be seen chirking and hopping on the the floor and fields looking for things to eat. It is very nice to watch them looking for food, singing merrily while eating. I am glad that you have a very good view of the birds, sitting comfortably at the desk and watching the beautiful nature with the birds and squirrels and such. Have fun, dear friend.

• Canada
11 Jan 08
It's a cold day today and we're expecting ice pellets in the afternoon so I doubt I'll see anything today but I do love to sit here!