Do You Like Scrapbooking? Are You a Regular Scrapper?

Hong Kong
January 23, 2008 7:10am CST
I just happened to browse through magazines and stores in the states and got to know the concept of scrapbooking (we don't have that in where I live). I think it's really fun and a good way to organize the photos and memories. I started working on one for my friend's as a birthday present (turned out not bad!). I am just a beginner and I know there is much to learn during the road, but I am glad that I have found this hobby. What about you? Do you like scrapbooking? Are you a regular scrapper, like going to gatherings and classes and stuff? Do you search online on websites (if you have any good ones, please suggest) to gather ideas? Please share your experiences!
6 responses

• United States
26 Jan 08
Some of the best things in life are free, and here we can get lots of scrapbooking ideas for free! Check out http://www.askanissa.com and htt://www.craftyplaces.com. These are two really great sites. As a seasoned scrapper/cropper, I love to do it. I started years ago, before they had all of the scrapbooking supplies available everywhere. It used to be we could pretty much only get supplies through Creative Memories or other "home parties." But times have changed! Now, there are scrapbooking sites all over the web! Michaels and Tall Mouse are ingenious craft stores that sell scrapbooking supplies, as well as other things. Both have websites (and Joann's does, too!) that give free project sheets, as well. Another site to check out is htt://adornit.com. This is by Carolee's Creations. She and her daughter do some awesome things with paper. It's not just for scrapbooking, but can help you decorate the house as well. At http://www.about.com, you can search for scrapbooking and subsribe to a "guide" who will send you a free newsletter weekly. These are just a few of my faves. Happy Scrapping!

• Hong Kong
27 Jan 08
Wow, thanks for all the valuable information. I will check out those and do some research about it. So far, I find it's a very fun thing to do.

• Singapore
24 Jan 08
yes i really enjoy scrapbooking. even though it is pooh poohed by others sometimes, it's more than an activity for ladies of leisure. i feel that there is a strong element of design in scrapbooking and i enjoy putting different pieces together. i have a local forum that i contribute and participate in regularly. there are all sorts of lovely pages that are uploaded. this is the address if you are interested. www.madewithlove.com.sg

• Hong Kong
24 Jan 08
Yes yes I am interested! Thanks a lot for the link! Will do check it out when I am feeling "normal" again *smiles*.

• United States
24 Jan 08
I started scrapbooking after my daughter was born - that was eight years ago. I had told myself I was not going to start and I would not get addicted (I can easily do that were crafts are involved). But my friend was doing it and it looked so neat. And I love paper. And stickers. And brads. So, I turned into a regular scrapbooker. Last year I did a number of albums for family members and big birthday celebrations. So this year I am trying to get back on track with my own scrapbooks. I have taken classes and gone to crops. That's another great way to get ideas other than just looking though magazines. Those have been fun. Also going to scrapbook conventions can give you great ideas. I was really crazy when I went to my first one and wanted everything. Now I am more displined. My friend (the one who got me involved) and I started our own scrapbook website at www.scrappinsistersaz.com and have even done a couple podcasts. They are really goofy. TV stars we are not. But it sure is fun. I hope youare having fun scrapbooking! That's the most important part.

• Hong Kong
24 Jan 08
Wow, interesting! Glad that you enjoy it so much! I will definitely check your website out after some decent sleep (now I am feeling "all over the place *laughs*). I do agree with you that scrapbooking is a very neat thing to do!

• United States
23 Jan 08
My sister started me scrapbooking a couple of Christmases ago now. I really enjoy it. I haven't gone to any classes or anything but I like to look at magazines for ideas. I love to go to the craft stores and buy new papers, they come in so many colors and prints. My husband likes to buy me scrapbookig stuff too. So far I have only started a scrapbook for my youngest daughter, but I want to make one for my older three children as well.

• Hong Kong
23 Jan 08
Yes I definitely love going to the scrapbook store! I especially love buying stickers!


• Hong Kong
23 Jan 08
Yes I think it requires a good amount of creativity during the process.

• United States
23 Jan 08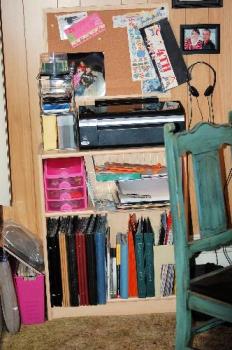 I started scrapbooking 3 years ago when I moved 1600 miles and started a new relationship. Since then I have done 2 scrapbooks for us, starting the new one for 2008, I have one that is my dogs, and one that is mine from when I lived in Texas, I have also done a scrapbook on my career and his, so am I a regular scrapper, ummm yep LOL. I don't go to classes or gatherings, but I do get some good ideas online. You should check out scrapbooking.com, personal preference, but I like that one the best, you can join for free, there are all kinds of ideas and they also have an online store, check out the clearance items, sometimes they have some really good deals. I did 3 mini-albums (6"x6") for Christmas presents to my family that still lives in Texas, high-lighting and sharing 2007 with them, they loved it. enjoy, Happy Scrappin

• Hong Kong
23 Jan 08
Wow interesting! Yes I believe that you are a regular scrapper *smiles*. I find idea very fun and at the same time very useful and I hope I would be able to complete a few scrapbooking projects in the years down the road *laughs*. Thanks for the suggestion, I will definitely check out what you have mentioned and learn more from it!