I Passed Grade One!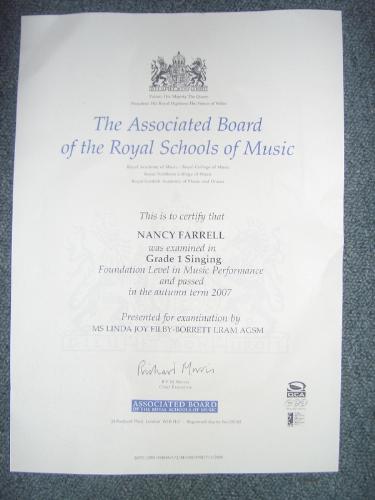 January 29, 2008 4:49pm CST
I passed my Grade One singing exam that I took in December I found out recently and also finally got the certificate. The exam was easier than I thought it would be and was all over very quickly, I'm already learning my songs for grade two hopefully it won't take as long for me to be ready for that exam (it took a year before I could do grade one).
4 responses

• United States
30 Jan 08
Congratulations! I hope you pass grade two in half the time! The first hurdle is always the highest. It should be easier from here on out. You have 4 levels to go through right? It should be all downhill from here. All of your friends will be pulling for you!! Shalom~Adoniah

•
30 Jan 08
There are 7 grades if I choose to do the last ones but I will probably just stick with the 5.

• United States
30 Jan 08
Great job!! Good luck with the next one!

•
30 Jan 08
Thanks I'm already learning 2 of the songs for it. "The Oak And The Ash" (A Folk song) and "Coventry Carol" the sad one about Herod killing all the male babies under a year old.


•
29 Jan 08
lol, I hope so then at least I won't have to worry about paying for my teeth, The TV show Ugly Betty has made it cool to have braces again so they'd probably still show me even with all that all that metal in my mouth. And I can sing better than half the rubbish people on there.

• United States
29 Jan 08
Well, good luck and I hope you pass grad two, are you working on a album or something

•
29 Jan 08
No but I'm hoping to become a session singer when I am good enough and can sight read well enough.