Have you ever heard of Guatemalan Worry People?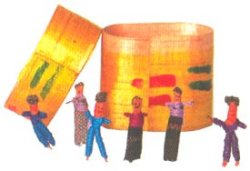 United States
January 30, 2008 1:37pm CST
One of the Christmas gifts my daughter in Long Beach sent me was a little yellow box containing Guatemalan Worry People. This box contains 6 tiny people with yarn and cloth clotes and a piece of paper that tells the story that when the Maya Indians of Guatemala have worries, they tell them to the worry people and then put them under their pillows at night. By morning the worry people have taken their worries away! I think it's an awesome gift and have never heard of this legend before and have since found a lot of sites that sell these dolls and and other items with the dolls on them. If you're curious just google "guatemalan worry people" and you will see. They are also not expensive at all. Have you ever heard of such a thing?
9 responses


• United States
2 Feb 08
I bet the instructions are online somewhere. I'm going to have to check that out. Thanks for the idea.

• United States
31 Jan 08
Yes, ctry, I've heard of them and actually have two right now.......what happened to the other four is a mystery. I think they ran off somewhere because they couldn't handle all my worries, haha. They are the cutest little people and I bought them at the Cleveland Zoo many, many years ago. I can't believe I still have a couple after moving so many times. They are adorable!

• United States
31 Jan 08
lol...I think mine are getting ready to pack up and leave soon too! Maybe they will meet up with yours.

• United States
31 Jan 08
I have heard of them. I have instructions for making similar, although they are not genuine, but are fun. My daughter got me a Burden bear once to keep by my bed. Similar principal. The worry people are more colorful, though.

• United States
31 Jan 08
I've never heard of a Burden bear but it sounds cute. I don't think the poor little bear would last too long with me!

• United States
30 Jan 08
What a unique gift idea, ctry! I love things that have a legend to go along with them. The Mayans had a very rich and colorful history that still holds a lot of significance today. One thing is for certain, though, people from all cultures throughout history seem to have had their share of worries -even now.

• United States
31 Jan 08
I'm sure there isn't a people or culture that doesn't have it's share of worries. I think it's cute that they came up with such an idea.

• United States
30 Jan 08
What a unique gift! I have never heard of them but it does sound very interesting..Have you tried it yet???? that would be something that i would try for sure if i were to get a gift like that...I have a "worry ' stone though..it is a flat shiney stone and it fits your thumb, and when you have a worry you are supposs to put your thumb on the stone and rub it, and this is supposs to ease your troubles....

• United States
30 Jan 08
I also have one of those worry stones that is supposedly made from a famous rock in Ireland somewhere. I try to remember to keep it with me all the time.

• United States
31 Jan 08
I wouldn't want to give a little doll my worries.It doesn't seem fair to me.Besides if I don't have my worries, I won't be me.

• United States
31 Jan 08
I have seen them before. I don't have any though.

• United States
4 Feb 08
I had seen them in an ordering catalogue years ago and I had also seen the name, but I did not know the story behind them. Thank you very much for letting us know the story. That sounds like a wonderfully thoughtful Christmas gift. Have you tried them out?