Here Boy, Here Boy, Good Puppy!!!!!

United States
February 9, 2008 9:02am CST
Ok I'm sorry if my posts are a little delayed!!! But I just got the cutest baby puppy boy yesterday. His name is Frost and I have been waiting for him for almost 2 weeks now .. LOL!! I finally got to bring him home last night and he was so good on the car ride home .. LOl!! He has been good since we got him home too. LOL!! Well today we get the snow dumped on us and now I think I might lose the puppy in the snow, because Frost is a completely white Siberian Husky, and I do have full AKC Registry. Which means I can breed him when he's old enough and I can show him. LOL!! I paid a pretty penny for his blood lines and the fact that he's Shorty's Nephew. For those of you that means nothing to it's basically means that the Shorty is from the movie Eight Below his is the only all white Husky in the movie. Here is the website of the kennel that I got Frost from. LOL!! If you going into the site you'll see that 4 dogs that were origanly born at Lauradales ended up in the movie Eight Below. LOL! with out further ado the site. http://www.lauradalessiberians.com/ So again Sorry for the delay in responses and I hope you'll forgive me.!!!!
3 responses

• United States
9 Feb 08
AWwwww no problem- picture soon please? I know I already saw one but he is so cute...

• United States
10 Feb 08
ok give me a moment I'll down load them I took some yesterday of him playing with his chew toy. LOL!!!!

• United States
10 Feb 08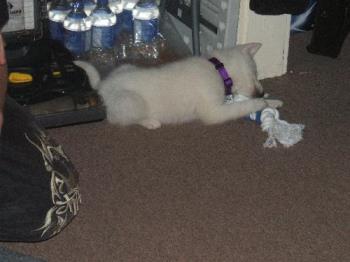 here's a teaser of what my profile is going to have LOL!!!!

• Canada
9 Feb 08
Heya bella!! glad you are enjoying you lil frostie ;) hehehe i give everyone and everything nick names lol sorry if you dont like it! Have you posted some more pictures of him now that you have him on your profile ? i will ahve to check it out and see ;)

• United States
10 Feb 08
pictures are posted on profile feel free to take a peek and see how the cute little white husky has been taking up my time. LOL!!!

•
9 Feb 08
Bella I had a good look around the site and there are some adorable dogs there - you have to post a picture of Frost when you get a chance! I love Siberian Huskies - I have known a few and they all had the most beautiful natures! You make sure that you look after frost and give him plenty of hugs and we will be here when you get the chance to login! xxxx

• United States
10 Feb 08
Mummymo, Thanks I have posted some pics of frost on my profile today so you guys can see what's keeping me from posting so much. LOL!!!!