Sisters what makes them close?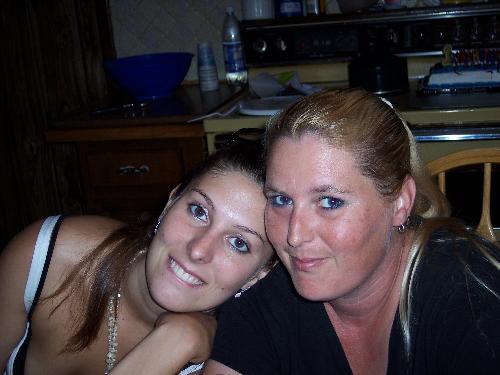 United States
February 12, 2008 7:54am CST
As some of you know my daughters are the youngest and the oldest of my children with the boys in the middle. From the minute Sheilana was born she and Heidi had something special..Funny thing is that Heidi was pregnant with her first child when Sheilana was born. I had thought that because she had a child the same age(7 months younger) that they would be more like aunt/neice relationship but no...They are very close sisters..They adore/accept each other in a way that only sisters can.. I have/had many sisters and our relationships were all different..My oldest sister Joanie was like another mother to me...2 of my older sisters were more like aunts..my sister Sheila( died in a car accident) was like my other side..she was left to my right and zig to my zag or ying to my yang...My youngest sister was just 14 when Ma died and since Momma was always ill she was like a child of my own ...Then Yvonne died when I was 12 but still somedays I get a wiff of the smell of her hair like she walked by..then my other sister was born a premmie and has learning disabilities..I have a protective teaching relationship with her... Do you have sisters..what kind of relationships do you have? xoxooxoxoxoxo
9 responses

• United Kingdom
12 Feb 08
No I have not got a Sister unfortunately and I only had one Boy and one Girl So I would not know anything about the relationship between 2 Sisters I used to pretend as a Child that I had one lol A lot of times that helped me in the bad times just to pretend xxx

•
12 Feb 08
I have two sisters, one living and one in a world of spirit. I have never realy been close to them but its like an invisable bond

• Singapore
13 Feb 08
I have three sister and we are all very close. Not sure what make us close. We are close in the sense that since young when we wanted to buy sometthing, we will buy four because there is four of us. Till now whenever we go when we sees something that anyone of us like we wil still buy it and give it to them and we make it a habit to meet up minimum of once a week with our kids.

• India
13 Feb 08
being an only child, I have no ideas about sibling bonding/rivalry. But what you say is definitely true as I found out again last evening. My mom has 6 sisters and between them, they are a lot! Two of them work (incl. Mom), four are married and two are unmarried. the two working sisters support the two unmarried ones and heaven save you from their wrath if you speak anything against the unmarried sisters. it was just yesterday when one of my unmarried aunts had come to mom for some money to colour her hair and generally pamper herself at the parlour. mom gave her the money (of course) but in the evening when i was home, mom was just complaining about how my aunt always asks for money and how mom has to comply. well well, i didnt understand what i was stepping on to and inadvertently told her that since childhood i have seen my these two aunts always ask her for money and that also not for emergency purpose or daily necessities but mostly to blow on themselves and enjoy life at their sister's expense. cutting short about what followed between mom and me, i will say only this much that we are not on talking terms till the time i am writing this!

• Canada
13 Feb 08
it could be that heidi was old enough to be her mother that they developed that special bond, I am not close with my sisters, we were never raised in the same household.

• Philippines
13 Feb 08
That is such a beautiful relationship. I am also close to my eldest sister who is almost a decade older than me. She plays the role of an elder sister and second mother to me. She is the one who takes good care of me and sends me to school.

•
12 Feb 08
familiarity, being close to each other physically for a long long time and sharing so much in common I would think would do it

• United States
12 Feb 08
I had two sisters. They were closer in age to each other, 2 years apart, and I was 4 years older than Carol and 6 years older than Bonnie. So, when young, they were very close. As adults, Carol and I became extremely close. We shared movies and hobbies and crafts; we ran around together, and later, we shared our love of church and God and sang in the church choir together. We seemed to be very much alike in our interests and beliefs and I told people we were like twins. When Carol passed away unexpectedly at 46, we all were devastated. The relationship between my sister Bonnie and I is fine, but not close and intimate like Carol and I were.


• Philippines
12 Feb 08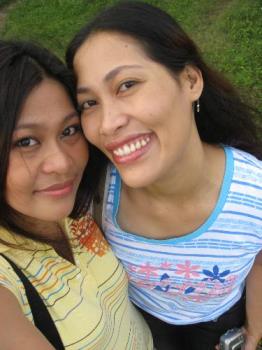 hi there, we are seven in the family.. im the youngest, 5 of us girls 2 boys, our eldest is 39 years old now, im 22.. my closest of all is the fifth, my sister mimi. she is a physical therapist, while i do art and fashion. we are so close, that we can share same clothes, same panties.. etc.. name it, she's turning 31 this year.. when i found a new stuff so cool, she'll get to know it first.. when my heart is heavy or when i feel lonely, i call her she gets to comfort me then.. most of my sisters are close with us as well, our bonds are just different, even if they got 4 children one or two.. we all take time taking care of our nephews and nieces.. we share our money when one is broke.. we may be poor, but i am blessed to have a wonderful family.. who listens, supports and always be there for me.. take care^_^