What am I going to do with this cat?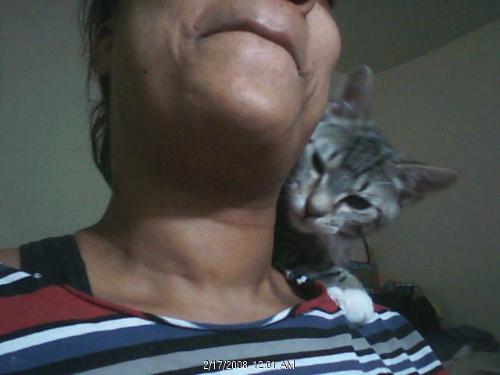 United States
February 16, 2008 11:10pm CST
He is tickling my neck. Boy he is the funniest thing tonight. When this cat was given to my daughter. They must have known he was looking for love. But this is just too much. I am sitting here fixing my site. Now he his playing with my posy tail. :) I always tell you about my cat now I get to prove it to you. :) Y
7 responses

• Australia
17 Feb 08
Haha he looks too cute! I got my cat from the vets i used to work at. She was homeless for months and spent the whole time just sitting in her cage. Every time I'd walk past, she'd roll on her back and poke her arms out to me through the bars and I just knew she needed love! I couldn't resist her and I bought her. I wouldn't trade her for the world! I love it when my kitten plays with my hair too!

• United States
17 Feb 08
This is just too funny for me. he wakes me up in the middle of the night. I have to lock him out of my room. last night I must have rolled over on him. He jumped off the bed quick. LOL I think cats should be free from the vets. Boy they get all the money they can. :)

• United States
17 Feb 08
It must be the weather or something, because my son's cat, Spitz is wiggin out tonight. He was batting and chasing my son's contact rewetting drops bottle all over the living room a bit ago, then he went into psycho kitty mode and started running in circles. Turned out he had a packing peanut stuck to his back... he was trying to get away from it. I was rolling here.... eyes tearing up and everything.. that cat ain't right!!!

• United States
18 Feb 08
I am thinking that you love this. That is what cats are about... giving love, tickles, purring, curling up wtih you, chasing you, sleeping on your feet or laying on your arms while you are typing on the keyboard, going someplace else in the house and yowling as if it is dying to get your attention. That looks like a kitten in that picture. I am so happy that you have a friendly kitty. My kitten screams like a banshee when she is picked up, she is very bossy. I think it is because she was found in a dumpster on a farm with two younger kittsn sealed in a plastic bag. I think she yelled for help and that is how she got such a big mouth LOL Have a ball, that is what kittens are for. :)

• Garden Grove, California
17 Feb 08
what are you going to do with your cat?Love it. laugh at it ,play with him. and love him.also be so glad you are where you can have a cat. I love cats but alas I live in an apartment complex which does not love cats or dogs. so have fun.

• United States
17 Feb 08
My kitty is very lovey dovey - Baybee LOVES to lay on my chest and kiss my face - granted it does get annoying at times but I love that little girl!

• Turkmenistan
17 Feb 08
He looks very cute and sweet. I love when animals like a lot of attention and are affectionate. Enjoy it.

• United States
18 Feb 08
Aww, your daughters cat is so cute..My daughters cat would never be that cuddly, she is not a people cat..The only affection she shows is when she is hungry and rubs against our legs....lol