breakfast in bed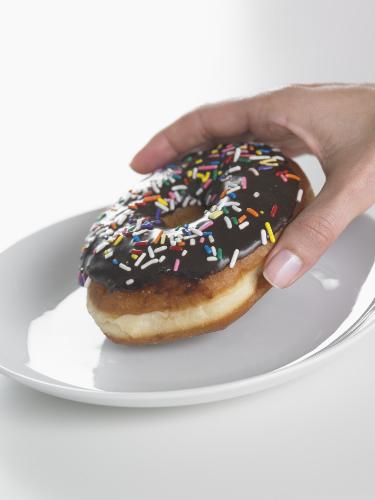 United States
March 12, 2008 7:43am CST
Breakfast in bed. Does it taste better than having it in the dining table? I would love to have it if my hubby will do it. He has never prepared any breakfast since I married him 8 months ago. In fact, he has never cooked anything at all. I love to have a breakfast in bed on Friday... Shhhh... it's my birthday, that's why. LOL.
9 responses


• United States
23 Apr 08

Wow, Well, it's personal preference. You can buy breakfast-in-bed trays in the store so it means that there are really people who prefer to have it. And it's not only for people who are sick but for people who wanted to be romantic.

• United States
23 Apr 08
Oh no no no..I couldnt stand having breakfast in bed..just becuse of the crumb factor..I HATE having crumbs etc in my bed..drives me nuts....HOWEVER if I were offered breakie in bed AND a sheet change then I'd go for it LOL

• United States
23 Apr 08
Don't remove the tray. There are trays that has a stand with it and a place where you can put your glass of juice and even a flower vase.


• United States
23 Apr 08
last time i had breakfast in bed ,it was a disaster,,orange juice all over,pancakes and syrup around my pillow,crispy bacon crumble all over my sheets and coffee all the way from the top of my bed thru the carpet floor....lol,,sorry it was true!!

• United States
23 Apr 08

I understand and I can just imagine. But still, I find it romantic.

• India
23 Apr 08
I have never breakfast in bed. I don't like the idea of it either. I can never eat anything on bed. Prefer to sit down comfortably to have something. As for husbands cooking, I guess a husband who cooks is a rare species indeed. Most of them even forget the little cooking they know after they get married. Cheers and happy mylotting.

• United States
23 Apr 08

I agree with you. They enjoy eating more because there is someone doing the dirty job for them.

• United States
23 Apr 08
how would it taste diffrent????

• United States
23 Apr 08
Not really. But it was more romantic and for one thing, I don't have to make it myself. It taste better when you didn't have to work for it.


• United States
12 Mar 08
My husbands idea of cooking breakfast is buying McDonalds or doughnuts. He has never actually made breakfast and in 10 years he has never brought me breakfast in bed.

• United States
23 Apr 08
Same with me, sometimes I like that. But somehow I think it is more romantic if he would make it himself and bring it in a tray. sorry for the late reply.

• Canada
24 Apr 08
Breakfast in bed I'm not eager to have because I would hate to have crumbs in my bed. However, on the weekdays I'm the first to get up in the morning to get ready for work, so I bring up coffee to my husband and we have our coffee in bed while our cat gets her good morning pettings. On the weekends, my husband returns the favour and brings me coffee in bed. It's a nice "us" time and a great way to start the day.


• United States
24 Apr 08
My husband burns water so if I wanted breakfast in bed I would have to get up and cook it for myself then get back into bed. To me, that's not very much fun! I have had him bring me a cup of coffee in bed and that was so nice. I guess that will have to do until I hire a personal chef. Ha!