tooth picks

United States
7 responses

• United States
18 Mar 08
I remember those everyone thought they were so cool with those toothpicks in their mouth. I have not seen those things around in years though.

• United States
18 Mar 08
I didn't get them to look cool. I just loved the hot cinamonny taste afterwards. I haven't seen them in a few years either here in Minnesota. HAPPY POSTINGS FROM GRANDPA BOB !!~

• United States
18 Mar 08
Yeah, I remember those. I've noticed that I've seen less and less toothpicks in general, too. I still have a canister full of them, I think, for cooking. I used to chew on those toothpicks because they tasted so good and were better than chewing gum.

• United States
18 Mar 08
I know not too long ago, (about 3-4 years ago) my husband had a package like that..Don't know where he got them, but I thought they were great for when flossing wasn't available and the cinnamon made it seem like I had a cleaner mouth.



• United States
19 Mar 08
i remember pop rocks they stopped making them because if fake new report of it being ate with coke and blowing up people stomach. test were made and u can eat 10 paks with coke and just get a big burp lol but they said on the food newword they stopped making them because of the crazy rumors on how it can hurt you

• United States
20 Mar 08
Yes! I do remember these. What fun! I had only used them when at a restaurant though - it really was a nice feature, kind of freshened up the mouth :) they were tasty to chew on, hehe. I do not believe I had ever seen them offered at shopping stores however.

• United States
19 Mar 08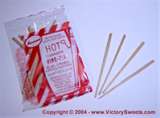 You have such a wonderful memory! Yes I remember them and I remember them very well! My brothers and I loved those things and got them quite often. We were told a lot to not run with them in our mouths and we could never understand that till we were older. lol

• United States
18 Mar 08
As a child on the way to school there was a deli that had them individually wrapped and I'd stop by each morning grabbing a few. Granted the nuns did not like me having them in my mouth but I still got them each day. HAPPY POSTINGS FROM GRANDPA BOB !!~