Innie or outie?

United States
3 responses

• United Kingdom
2 Apr 08
I have an innie but I think outies are so much rarer and so much sexier and nicer to see! I am currently working on my stomach so that my belly button becomes more prominent once I lose the body fat around it. The one thing I hate is to see the belly button pierced now that to me is very offputting!

• United States
22 Mar 08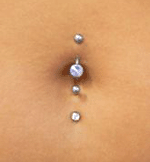 This is very funny question Dreamy...

My belly button is innie. When I was small, I used to think that I am the only person in the whole world with innie, because all of my friends and my brother have outie. I don't care now, it is very personal opinion. All pregnant have belly button outie...


• United States
22 Mar 08
I have an innie but think outies are cooler