For My Dads Safety.....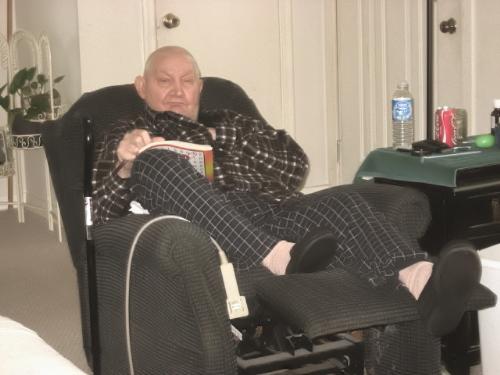 United States
March 22, 2008 4:05pm CST
The plans for Easter Sunday are to go to my daughters for Easter Lunch around Noon or 1. Now the snowstorm of yesterday and this morning have me concerned about dad possibly taking a fall in the icy mess in our driveway or my daughters. He refuses to wear anything on his feet but slippers and they have slippery soles. I know with the way he walks now he would more than likely take a tumble between leaving the front door and entering my daughters front door. The snow is on top of icy sidewalks etc. Shoveling my drive I fell on my back twice due to the ice. I decided to quit as they say things come in 3's. Anyhow I sat with dad explaining how the driveway and sidewalks are icy under the snow. I also explained I was fearful of him falling. After a few minutes we all came to the conclusion that for dads safety he will not go. He agreed easily as he hates walking anyhow. So it will be myself, my wife, and ou=r son going. I think I made a good choice. If the roads and walks seem okay in the morning I will ask him again if he wants to go or not. But knwoing dad he will say, just go already. Thanks all and have a Blessed Easter. HAPPY EASTER FROM GRANDPA BOB !!~
3 responses

• Garden Grove, California
23 Mar 08
As a senior citizen who knows the hard way what a fall can do to one us especially if we have some disability anyway. I fell two years ago on a slippery greasy sidewalk beside my favorite cafe the result a brokenshoulder so bad I had to have a bionic shoulder joint put in and this was in a warm climate too. and in icy conditions it would be so much more dangerous God bless your dad and god bless all of you. Happy Easter Grandpa Bob

• United States
23 Mar 08
Thanks bunches. HAPPY POSTINGS FROM GRANDPA BOB !!~

• United States
23 Mar 08
I understand your thoughts about takeing your dad out but im also concerned about you leaving him home alone, how safe is that? you see bob I lost my mother a little over a year ago and she was always saying oh you go ahead and go and we always did but I felt so bad about it I didnt enjoy myself so I know it seemed like she didnt mind but did she really ? if only I could have seen inside her heart. i wish with all my heart she was here today so we could lift her up and bring her to the family doings with us again.

• United States
23 Mar 08
He does fine alone. All he does is walk to the bathroom or fridge. he makes a sandwich for lunch. Then he will sit in his chAIR ALL DAY. he will be sleeping when we leave so that's kewl as well. he gets up at noon exactly for lunch. We should be home well before dinner time for him so I feel safe leaving him alone. I've done it when I go to the casino. I felt the same way at first. I did not want to let him out of my sight at first. Now I accept the fact that at any given day and time something xcould happen. So I am comfortable with this decision. HAPPY POSTINGS FROM GRANDPA BOB !!~


• United States
22 Mar 08
Oh man. You had to remind me didn't you? Fine! But I get the leftover pies. Thanks. HAPPY POSTINGS FROM GRANDPA BOB !!~