Steak umms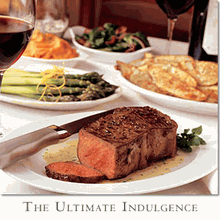 United States
March 27, 2008 7:01pm CST
What are the different things you add to yours? I can eat these for days. I love to make one when I have a soft fresh roll. Boy that melted cheese and garlic taste so good together. I make mine with chopped onions browned to a sweet caramel color. Then I take them out of the pan. I wonder why they get so sweet this way. I then just add seasoned salt cheese and some garlic.
5 responses

• Canada
28 Mar 08
I have no idea what a steak um is, but I fry my steak with onions and green peppers and mushrooms, I love it just like that, sometimes I use spices, sometimes not, I love the natural flavour of the meat.

• United States
28 Mar 08
Oh you can cook Steak umms any day for me, they sound so good! I do mine just about the same way you do and make the onions separately since my husband won't eat them. Have to have cheese too and I'll use mozzarella or cheddar whatever is around in the fridge. I see all that grease in the pan and know they just aren't good for me, but I buy them every now and then for a treat - I could eat the whole package!

• Australia
28 Mar 08
I love steak too. I particularly enjoy a hot pepper sauce on my steak. Here is a great steal recipe: STUFFED ROUND STEAK 1 1/2 lbs round steak, 1/4 inch thickness 1 1/2 cups Italian style breadcrumbs 2 tablespoons olive oil 1 tablespoon butter, melted 1/4 cup fresh parsley, minced garlic powder (for sprinkling) 3 tablespoons Parmesan or Romano cheese, grated 1/2 teaspoon Hungarian paprika (optional) 1/3 cup chopped red or yellow onion 8 thin slices pancetta or bacon Olive oil spray Cut steak into 8 2X4 inch strips. Lightly season the strips with salt, pepper, and garlic powder. Combine breadcrumbs, melted butter and olive oil, minced parsley, grated cheese and paprika. Spread this mixture on each steak slice. Roll up slice with stuffing mixture inside. Wrap a slice of pancetta or bacon on the outside of each roll and fasten with a wooden toothpick or tie up with a piece of cotton string. Whichever you use, soak the toothpick or string in water for a minute or so before you use it to prevent scorching. Spray the rolls with olive oil spray (or brush on plain olive oil). Sprinkle with garlic powder. Broil the rolls slowly over hot coals until the pancetta or bacon has become crispy. If it begins to dry, spray lightly with olive oil again during the cooking, being careful of flare-ups. Turn frequently until done. Garnish with fresh parsley sprigs. Serve on buttered and grilled rolls. 4 Servings (2 each).

• United States
28 Mar 08
Wow I thought they didn't make those anymore. I used to looove them when I was a kid, but haven't ever seen them since!

• United States
28 Mar 08
I make these for my hubbie and I think they smell really bad, I am not one for steak or for frozen steak in a box! blah....