A great dip Recipe, Do you have one to share with me ?

Canada
April 1, 2008 4:14pm CST
This is an EASY and delicious dip that i helped make at mothercare today. We used it for veggies, but you can use it for breads and stuff too. It's called Turkish Dip 1 cup plain yogurt 1/2 cup mayo 1 large garlic clove (we used two cause we like garlic) 1/2 teaspoon salt 1 teaspoon tomato paste (we used ketcup and it was good) 1/2 teaspoon ground cumin 1/4 teaspoon cayanne pepper to taste (we were making it for small kids too so we skipped the cayanne pepper and it was still good) smash up the garlic on a board with salt to make a paste. Combine yogurt, mayo, garlic, paste, and spices. Serve with pitas, bread, or veggies. I hope you try this out. its SOO easy and tastes so good. I didnt think yogurt and mayo would taste very good together but i was surprised! Do you have any easy and good dips you could share with me ?
8 responses

•
1 Apr 08
That sounds so yummy - wish I could have been there to try it with you - I would have got to cuddle your gorgeous little girl too! I don't really have any recipes to share - i am lazy and buy dips! lol The easiest dip though is one jar of peanut butter, open lid and dip - great with most things even celery! xxx



• United States
2 Apr 08
That does sound pretty good. My favorite dip is a bean dip that we make sometimes when eating tortilla chips or even doritos which is my favorite. Use a small 9" thick pan. -Spread 1 block of Philadelphia Cream Cheese (or any brand you like) on the bottom, covering the entire bottom. -Add Hormel Chili W/Out Beans on top of Cream Cheese, and spread evenly. -Cover that layer with a layer of Sour Cream, any brand. -Add chopped black olives to the next layer. (optional) -Sprinkle shredded cheddar cheese, or even a fiesta blend cheese on top. -Heat in oven at 300degrees, until cheese is melted on top. Then you just dip your tortilla chips, or your doritos in the dip, it's really good. I personally like the doritos that have the 2 flavors in the same bag, Zesty Taco and Chipotle Ranch, but you can use any kind you like!

• United States
2 Apr 08
Yes! You are being deprived if you haven't had them! There is also another kind with two other different flavors as well, Spicy Buffalo, and one other flavor but I can't remember it. I got them at Wal-Mart, but they also have them at other supermarkets, just check by all the doritos!

• United States
1 Apr 08
ok this is a simple dip. take some velvetta chese and melt it and put salsa in it. mmmm sorry i need to get my penny back that mylot stold from me..lol

• United States
3 Apr 08
no i think it was cuz i was inactive for a bit. you wernt here to keep me going so i wasnt on at all while you were gone. only to post the discussion that you had your baby.

• United States
1 Apr 08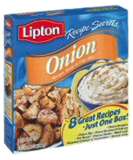 Mix Lipton onion soup mix and a regular container of sour cream and you'll have one tasty, very good potato chip dip! Much better than the store bought ready made kinds! I promise! lol

• United States
2 Apr 08
this dip I make and I have not made it for a while I use on fruit you use 1 jar of marshmellow cream and 2 small containers of cream cheese mix it throughly until it is well blended together chill for about 15 minutes,it just depends on what kind of friut you like now I like mine with strawberries,apples, banannas and watermellon or cantalope just dip slices of friut into your dip and let's have a party it is good for snack

• United States
2 Apr 08
That sounds good I will have to try it. I like the onion soup dip. You use one packet of lipton onion soup mix and 16ozs. of sour cream.

• United States
2 Apr 08
Sweetie do you like Black olives? I make a mean black olive dip. 8ozs cream cheese 3/4 cup chopped olives, one cup sour cream, salt, fresh ground black peper, cayanne pepper and Italian seasoning. Use seasoning to taste. Boy is it good! How ya doing Sunshine?

• Canada
2 Apr 08
I love olives. and that sounds good. but what is italian seasoning ? like a premix of spices ? i have an italian seasoning mix, but it could be different then the ones you have.. i think this one is mostly like orageno and basil or osmething. lol I am doing well. We are all coping, getting into a routine. I cant wait till summer so that i dont have to dress everyone to the nines before we go out anywhere. I never thought getting TWO kids ready to go outside would be so much harder then one! lol. How are you doing ?

• United States
2 Apr 08
Sugar, exactly Sugar... a mix of spices. I am sure what you have is it. LMAO You have only begun to see how much fun 2 are compared to 1 :))) I am AOK Sweetie. Sure miss you around here!

• United States
2 Apr 08
My wife has a great didp. But there is no amounts of things added it is all by taste and looks. One package of Philidelphia Creme Cheese. let it soften in a bowl. Add minced onions, a tablespoon or so of mayo, and a couple squirts of mustard to taste prefrences. Let sit till the onions have absorbed some moisture than you have a great didp. HAPPY POSTINGS FROM GRANDPA BOB !!~