Woo, strawberries !!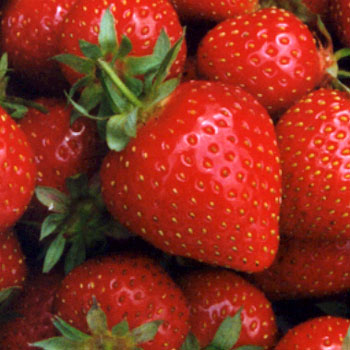 Indonesia
9 responses

•
22 Apr 08
Mmmmmmmmmmmmmmmm I love strawberries but you are right, they just don't taste the same these days. I used to go strawberry picking when I was younger, well one strawberry in the box and one in my mouth:-) I was thinking quite seriously of getting a large earthenware strawberry planter for the garden and growing my own this year. You just can't beat the taste of fresh young strawberries just off the plant, possibly with a light dusting of caster sugar and a dollop of cream:-)

• Indonesia
20 Jun 08
Hi recycledgoth, How is your strawberry plant? I would like to see and drop a comment to your strawberry plant picture if you upload it in mylot

!


• Malaysia
26 Jun 08
Hie Everyone, that sounds marvelous Recycle

, to have own planted ones and will be such a beautiful sight indeed. The strawberries here are sourish and expensive. Although it looks good but the taste is not what it seemed. Perhaps Dian, you have better quality ones over there

I just love the bead soaps with strawberry fragrance. Cheers and happy posting!

• Indonesia
27 Jun 08
Thanks Desierra1004I, love plants

. See you in your discussion!

• United States
28 Jun 08
I like strawberries, but I prefer cherries. Cheeries are sweeter and taste better to me than strawberries. They have a limited season so they are really a tasty treat since they are not around too often.

• Indonesia
28 Jun 08
Oh hi snowy22315! I am happy that you visit my discussion. I wonder what cherries taste like

I think we don't have it at our country. Thanks for dropping by, i will visit your discussion in return.


See you there.

•
27 Jun 08
I prefer eating strawberry fresh.I would slice it in 3 or 4 cuts, depends on the size.Add/sprinkle a little salt because some of it are not that sweet.My kids would love eating it also.

• Indonesia
28 Jun 08
Hi misty99, I always happy to see a new member! welcome at mylot! Thank you for responding my discussion. Strawberry with salt is perfect!yum yum

Happy posting!!! OoXx`dian

• Indonesia
27 Jun 08
strawberries on your bed!

did you draw them yourself or just buy them? i like strawberries but rarely eat them. i prefer food that make my satisfied soon

. i don't have a patient stomach. anyway, enjoy your strawberries


• Indonesia
27 Jun 08
Hei! always happy to see you, sutanhartono! same with me. I rarely saw them at my shopping area but closer to strawberry is strawberry ice cream at Circle-K across the street of Melasti Hotel LOL

enaaak!(delicious)thanks see you in your discussion. Happy posting!!!OoXx`dian

• Indonesia
27 Jun 08
Hi there juhi06, thank you for responding my discussion. I will visit yours in return.

Strawberries ROCKS isn't it?!?!


• Davao, Philippines
20 Jun 08
like wise here and i guess all kinds of fruits...especially in making fresh juice out of it..

• Indonesia
21 Jun 08
Hi vanities, I love strawberry juice! thank you for dropping by, I will visit your discussion in return


• United States
5 Apr 08
I love strawberries! I dont have any recipes with them but I think strawberries are just great by themselves right after you bring them home from the store.

• Indonesia
24 Apr 08
I can imagine that! thank you for visit this discussion, gavsmomjamie . Have a beautiful day

• Philippines
5 Apr 08
I do! I like strawberries very much. So sad that it is not very much available in our place. Everytime I visit the strawberry capital in our country, I would always indulge in it and bring home some. I like it on my ice cream and cakes. I also like it preserved in sugar. I even eat it raw, I just wash it and eat it. I think I would love strawberries anyway it is served.


• Indonesia
6 Apr 08
Yeah! strawberry is great! Thank you heart143, for visiting my discussion. I'll visit yours soon. Take care


• United States
5 Apr 08
I usually don't buy them unless they are on sale. It sucks that some fruits are so expensive anymore. I did pick up some today because they were cheap. I'm not obsessed with the fruit by any means, but it's a nice treat once in a while!

• Indonesia
5 Apr 08
Yes, you are right It is sad to eat fruit we must pay more expensive that a burger. I got experience by buying bad fruit that is on sale. I think those fruit was too long in the store, so that some part already bad. I hope you enjoy your fruit secretsof2113

Have a nice day