my kitties have 2 different eye colors

Philippines
April 12, 2008 3:03pm CST
i just noticed recently that some of my kitties have 2 different eye colors. their left eye was green while the right one was blue. they get their green eye from their mother while the blue ones are from their father. i find it cool and cute lol does your cat also have 2 eye colors? or is it rare?
3 responses

• United States
13 Apr 08
Are your cats white? The blue eye in white cats are often associated with deafness. It has to do with white spotting (since the cat is already white you don't see the spots) and when the white spotting goes from eye to ear, you get a deaf cat. bi-eyed cats are often deaf on the blue eyed side - have you checked for deafness?

• Philippines
13 Apr 08
yeah 4 of them are white and 2 of my kitties are bi-eyed. haven't checked for their deafness yet

i'm gonna check it later. thanks for the tips

• China
13 Apr 08
Hello dear rhane. It is interesting to know that your kitties have two different eye colors. I did not know that it could be so until I read this discussion of yours. Well, it is a strange world with many strange things to chance to happen. Thank you so much for sharing with us about this knowledge. Have a good time, my dear friend.

• Philippines
13 Apr 08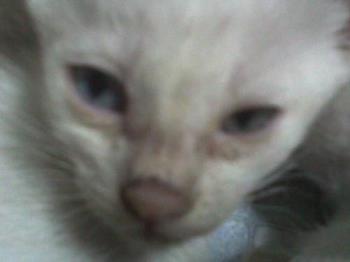 me either

i thought that is not normal at first, thanks to sunkissed for giving me that info

• United States
12 Apr 08
My cat's eyes are green. But I have seen cats that are Bi-eyed, and dogs also. There is nothing wrong with it, It just happenes that way sometimes.

• Philippines
13 Apr 08
thank god that there's nothing wrong with that. now i'm relieved