An Alternate to the Traditional

United States
3 responses

• India
11 May 08
there are a lot of firsts that are happening these days... well if it is a private marriage then you can try those things on.... but if you have other family members who are a bit orthodox then you should try to live up to their expectations. i might sound somewhat orthodox... but still i see no harm in those things. have a nice day.

• United States
11 May 08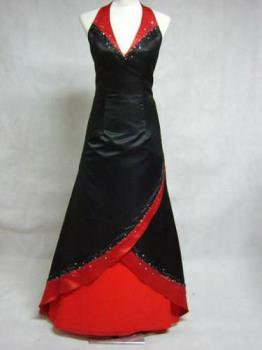 hehe, our families are both pretty non traditional;. I've got extreme Christians on one side. By extreme I don't mean super strict I mean pierced and tattooed up, rock band type of people, as well as the strict ones. We both have bikers in our family. And to top it off, our families respect and admire individuality. Plus, the wedding isn't about the guests, its about the couple. Shouldn't our desires and dreams come before all of theirs?? Here's another dress idea I'm throwing around. I'd have to figure out a train and veil option. But like I said, we are still in the dreaming it stage.

• United States
11 May 08
OOhh, I like this one. Mom's opinion counts for a vote, especially on Mother's Day, this is it.

• United States
12 May 08
yeah, I really like this one. It's a custome, handmade to fit for $225. I'd want a long veil/train in red to go with it...that;d run almost $100 itsself.


• Etowah, Tennessee
12 May 08
I like the second one better myself, but maybe a bit less red . I think a red veil would be too much, but a grey one does sound like it might work. What ever you decide, be sure it is what YOU want. I think it is grand to throw ideas and suggestions around but really it is what you want that really counts. And BTW, congrats on getting married, I hope you are both very happy!

• United States
17 May 08
Thanks Tammy. These dresses are just ideas, I'm gonna have the "real" one made out of some of the ideas I collect. And ya know, I'm very thankful I threw these ideas out, cuz I got a lot of feed back that has gotten my ticker moving right along....now if only I had the money to get these thoughts moving anywhere:(

• Canada
16 May 08
What a wonderufl idea. You are not the only one who wants to break with traditon. When my husband and I got married, I wore a beautiful red wedding dress. I had no interest whatsoever in wearing white, or being traditional.

• United States
16 May 08
How cool! Thanks for sharing. Did you "break" any other traditions in your wedding?