I love horses

India
June 3, 2008 11:16am CST
For their style, performance, speed, friendlyness, fancy etc. etc. I once write an essay about 500 words on horses in an interview and succeeded.
4 responses

• United States
8 Jul 08
Don't we all? :] I completely agree [about loving horses that is; haha.] I love them for many reasons. The best reason for me is the feeling of companionship and understanding between a human and a horse. A strong bond can be truly amazing. They are very intelligent and wonderful creatures. Who wouldn't love them?

• United States
3 Jun 08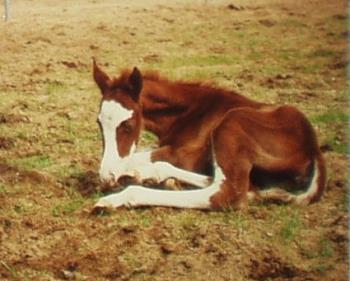 I love horses too, I have my entire life! I've always thought they were the most beautiful of animals. I don't have a horse anymore but I did have a few a long time ago. Unfortunately it just costs so much to have one. I am hoping to have one again one day. I have included a picture of Heather, the baby horse that I used to have many years ago.

• United States
3 Jun 08
Same here!! I own three horses and I think they are wonderful. I love how beautiful they look when running... their hair all blown in the wind lol. I remember when my horse was just a little baby! She was so cute then trying to walk and run.

• United States
3 Jun 08
They are beautiful animals. Horses have a majestic quality. So strong, and fragile at the same time. My daughter has developed a fondness for them. She currently goes for a pony ride every time the fair is in town.