What is your favorite food?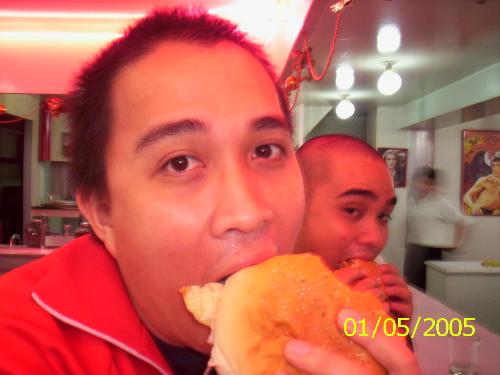 Philippines
September 12, 2008 5:26am CST
Foods are part of our everyday needs. Its basic of the basic necessities. We have different kinds of likes and favourites, but which one really stands out in your list? Mouthwatering juicy burger that will melt in your mouth, pizza that has thick mozzarella cheese and a crispy crust, crispy bacon and eggs, hot fish and chips with tartar sauce or potato chips crisps and curls. Whatever it is, which food does make you crave for from time to time?My favourite food that stands out from my list of my like is, Cheeseburger. I like all kinds of patties whether its made of veggies, beef, chicken, pork and shrimp. Maybe because its the most covenient food to eat and it makes me crave for it from time to time. There is not a month that I wont eat a single burger. This particular food is part of my system already in every way. I crave for it mentally and psychologically. Yum yum yum.
2 responses

• India
12 Sep 08
Hello! It is true that everybody has his/her own favorite foods.but people should understand what is good or what is bed for health.My favorite food is fried rice and chilly poneer and fruits salad and yogurt.I am a vegetarian.so I drink a glass of vegetable soup before meals. This has suited my health.Thanx.

• Philippines
12 Sep 08
I love fried rice too. I can eat them almost every meal. Spicy foods..their the best. I eat chili. Yum. Hot. Thanks and keep em' posted.

• India
12 Sep 08
We can not live without food. I am to comment some people eat food just fill their bally. They do not think what is to be eaten and what not. Each food item has its on richness and ingredients. Some of the food are fiber rich which are good for health for every body. Usually I like in noveg. as Fish baked in the micro oven. I also like lot of salad and green vegetables. I too like fruits which are fiber rich.

• Philippines
12 Sep 08
Excellent choice. I myself went Vegan for a year. Eating salads and Veggie burgers and most of all fruits. It really made me feel good. That is why until now I also make sure that I have vegetable intake no matter what. Happy posting. Thanks for sharing.