"Does your Child have a Unique Habit"

Kuwait
September 20, 2008 6:21am CST
Does your Child have a unique habit

well my daughter have a unique way of habit and it is "Eating"

and it is inside the bathroom, yes you hear me she always like to bring with her in the bathroom while taking her shower it is eating and playing in the water at the same time,What are the uniqueness habit of your Child..////?????

6 responses

• Kuwait
20 Sep 08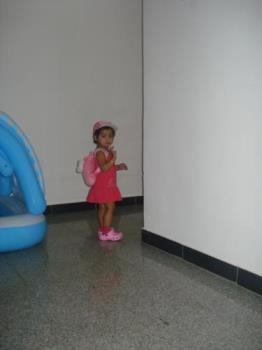 ha ha ha your daughter is so nutty iyah, but my daughter habit in this time is crying like one of the movie & just suddenly she will laught loud, & start now taking her bag & cup she want to go out i dont know wher. This here pic, that i ask if we she go, i said in school she said only babay:)

• Germany
20 Sep 08
yes she has a unique habbit.in the middle of eating thats the time she wants to pei.

•
20 Sep 08
Hello iyah10 Well my middle son will bend his head down so that it touches his chest then make funny noises as his windpipe is bent and changes his voice but no one else in the family has ever done this or been able to. Even my youngest son tries to copy him but it doesn't work. He has done this since I can remember!

• China
20 Sep 08
Yeah, my son has had this unique habit of his loving to smell his towel blanket ever since he was a very small kid though he is in his teen now. lol

• Kuwait
20 Sep 08
Well i guess for the baby its doenst matter to bring food inside the bathroom because she is innocent and dont care about the play,, she will do it all the time. she doesnt know what the bathroom for is.. but anyway whenever the bathroom is clean it doesnt matter.. sorry for i dont my own child yet... hehheheeh

• Malaysia
24 Dec 08
Hello iyah10, He doesn't really have a very unique habit at this moment. Maybe just only this - I teach him two language - my mother tongue and English. So, whenever he sees something, he will say it in both language though the meaning are the same. He can't see me talking on the phone too. He will ask me, "Mommy! What did you say?" though in fact I didn't talk to him!