how many candy dishes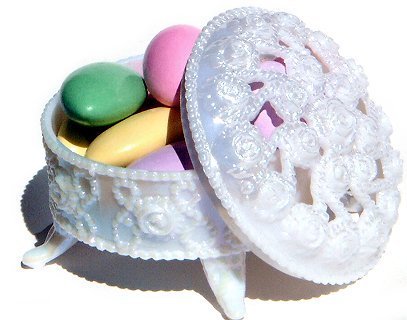 United States
September 30, 2008 9:39am CST
I noticed that my mother in law has about four different candy dishes. One of them is an Easter dish that she puts out for Easter and one of them is for Halloween that she puts out for Halloween. I had a candy dish at one time, but honestly I don't remember what happened to it. I would love to have another. A pretty glass one. Or one that goes with the holidays. Do you have a candy dish? How many do you have?? do you always keep candy or mints in them?? what do they look like??
3 responses

• United States
30 Sep 08
I have one that my Niece and Nephew bought me for Christmas years ago. It is very heavy clear glass and is shaped somewhat like a chocolate kiss, in fact those were in it when I got it. I keep it put up though b/c it means alot to me and I don't want it broke. Hubby has a Christmas tin that he keeps his hard candy in and I just use a little bowl when I get candy. [b]**AT PEACE WITHIN** ~~STAND STRONG IN YOUR BELIEFS~~[/b]


• United States
30 Sep 08
I don't own a candy dish. My hubby keeps his altoids in the tin containers they come in. For a few months we keep Halloween candy in my daughters plastic jack-o-lantern. My grandmother had some really nice candy dishes. They were like little works of glass art.