SS Malachite Ring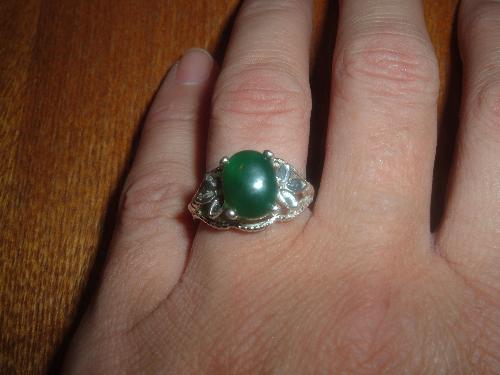 United States
October 14, 2008 9:38am CST
This lovely sterling silver ring, features a genuine Malachite gemstone, with leaves on the shoulder of the ring. It is available for sale, if anyone is interested. I am having a blast this year, making new designs, and using some different materials. My wire wrapping, is expanding, and I have a couple of new ideas to try, once my materials arrive. Please share any new items you have made.
1 response

• United States
14 Oct 08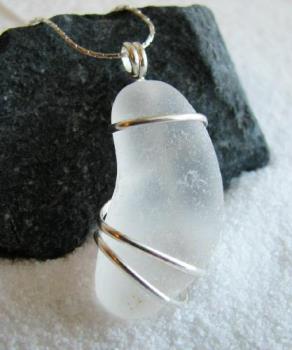 Very pretty! I love the color of the gemstone...it's very unigue. Great job with the ring!I finally did a couple very basic and simple wraps on a couple of pieces of sea glass I found over the summer in NJ. I don't have a photo of my favorite because I'm keeping it for myself (YAY!!) and it's a unigue shade of teal (I was told it's a rare shade) The first piece I wrapped only last on Etsy for a couple of days before it was purchased and I have a soft blue piece that I wrapped currently in my shop. As soon as the holiday season is over, I'll be looking to expand my wrapping techniques to add more "pop" to the pieces. Keep posting your pics, I love looking at your work!

• United States
15 Oct 08
I had looked at your items, before, and you do nice work. I am curious about sea glass. Is it real glass, or looks like glass? It is so unique and lovely.

• United States
15 Oct 08
Thank you! Authentic sea glass is actually bottles that were thrown out as trash many years ago. 50-60 years ago there was a lot of garbage being dumped into the ocean. The salt water and tumbling around in the sand broke much of that garabge down (biodegradeable) but the glass remained, breaking apart as it tumbled in the sand. The combo of sand and ocean water leeched chemicals out of the glass, which gives authentic sea glass a "frosted" look. The rougher the shoreline, the smoother and rounder the glass sometimes comes back to the land. Most sea glass spends decades in the water, as the process takes that long to make the discarded glass into a highly sought after beach gem. There is also something called craft glass. Craft glass is just plain colored glass that is tumbled in a rock tumbler. Many times the glass looks similar to each other. The cost of this glass is very inexpensive and unfortunately, many people mistakenly by jewelry made with craft glass, thinking they are buying sea glass. It's a shame, because they end up paying sea glass prices and that leaves them with the feeling that they were scammed and ultimately they may never be entirely comfortable buying sea glass ever again. I live near the beach in New Jersey and our shore isn't very rocky and the surf, rather tame compared to the west coast. This forces my hubby to buy a lot of authentic sea glass from reputable buyers (who of course know what they have and they charge "sea glass" prices... it's not uncommon to buy 5 or 6 pieces, less than the size of a dime, in the same color and pay nearly $2 per piece!)The buyers I purchase from are all well-know collectors of sea glass, all members of the North American Sea Glass Association and for the most part, these sellers are all board members of the group. I do have pieces that I have found over the years and my family and I lay out the jars and jars of glass we have found, group the pieces that are jewelry quality (and the ones that aren't go into jars that we place near window sills or display around the house... it really is beautiful when the sun shines on the jar or bottle on the sill...sea glass make wonderful sun catchers) The simplest answer to your sea glass question... if it's found on the beach, it could be sea glass. (If it looks like an ordinary bottle that is just wet, it may be a piece of glass that didn't spend enough time in the water to turn it into authentic sea glass) If you see it at a flea market and there are many pieces of the same colors and they are all about the same size, you might want to beware... it could be craft glass. If you are near the ocean and would like to when the best time to search for sea glass is, LMK and I'll have my hubby explain what days in the next few months are key days.

• United States
15 Oct 08
Very interesting, thank you for sharing it with me. Would you like to be a guest poster on my jewelry blog, and explain this to my readers? I will gladly post your store link, for free, as compensation on my side bar. I do live about an hour from the ocean, but I dont get to visit all that often. I will definately remember this info though.