How do you make yesterdays scraps become your next meal?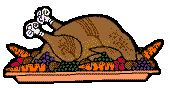 United States
4 responses

• United States
30 Oct 08
Easy, I just re heat it in my toaster oven, or god forbid, my nukewave machine. Like right now, I am nuking my home made spaghetti sauce and bow tie noodles in the nukewave, only because if I heated it up in my toaster oven, it would be very messy.

• United States
30 Oct 08

I really like those bow ties. You cannot go wrong with pasta! I know what you mean, because it is not fun scrubbing out that sauce when it gets all over the micro.....ugh

• Canada
29 Oct 08
i usually freeze them and we have them at a later date because not too many people in my family want the same thing two days in a row. then once in awhile we will have left over night where i will take a few things out of the freezer and mix and match them for supper.

• United States
30 Oct 08

I usualy make a goulash or something so different , with different spices. He dosent always know that hes eating leftovers lol hehehhehehhehhe


• United States
30 Oct 08

When I had my three children at home, I didnt have alot of left overs either. Now they are experiencing this with their children! I know what you mean...lol

• Defiance, Ohio
29 Oct 08
I made chicken in the crockpot yesterday. With leftovers, I deboned and removed the skins off the chicken. I drained the broth the chicken made. Than I shreeded the chicken up, thicken the broth up, add some veggies. Such as celery, carrots, potatoes and dumplings. Than I placed it all in a pan. Cover with busicuit and put it in the oven for chicken and biscuits. What did you do with your left overs?

• United States
29 Oct 08
I am doing a chinese dish tonight. I have deboned chicken and rib meat. I use rice and ginger and carrots and brocoli. It all goes in the electric skillet and simmers. Theres no fat, well very little and also quick because the meat is already cooked. You can use soy sauce or add other things as well.