My Second Payment From Mylot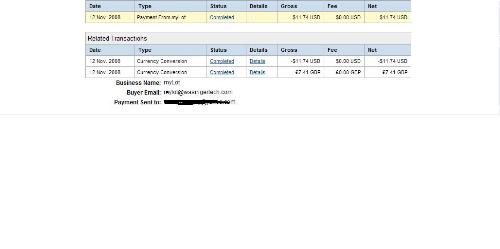 8 responses

•
12 Nov 08
Congratulations. I have recently just recieved my first payout from mylot and am over the moon. Have been working really hard to try and reach payout for this month but worry I am falling behind a little so feel like I will need to put a little extra effort in somewhere along the line. Feels like such a great achievement reaching payout here...makes me feel like not only can I give my opinion but i'm rewarded for it...love this site.


• India
12 Nov 08
congrats on your payout. i am still working hard to reach payout.

• India
15 Nov 08
Congrats on getting the second payout from Mylot .

• Philippines
14 Nov 08
Well what can I say but a big congratulations from you, now I remember last time you were really working so hard to meet the pay out and now hearing from you again that you already received it, I am too is very happy for you, feels like I was in journey to pay out..

keep posting more so you can receive and reach pay out again..

• United States
12 Nov 08
Congratulations! :) I'll get paid next month! :) I like 1818 by the way! I know, I know, it'll change as soon as you make another post! ;)

• Singapore
12 Nov 08
Yup, i have received my payment from mylot too about half and hr ago ^_^ ACtually i have been waiting for it for quite a long time, and so far, this is the latest date whereby mylot pays.. hehe ^_^ Though it's still less than 2 weeks, but i feel that it's much longer.. lol =D BUt who cares?? As long as mylot pays me, and it's within the time period, i will be as happy.. lol