Covered mints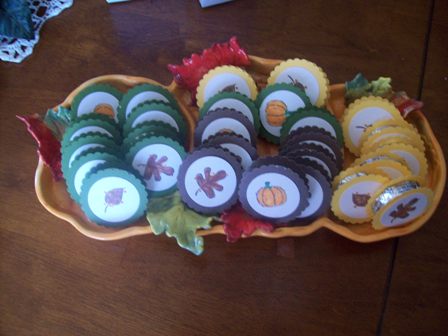 United States
10 responses

• United States
26 Nov 08
They are cute. Do you want to share how to make them? I love mint so I can see something like that on my table for the holidays.

• Australia
24 Nov 08
They are wonderful I must say. Yes I do lots of things to make my home look festive (not just the table) but this year I cant even think about it. I am starting to work on my husband to help me A LOT just to put the tree up and the decoration but I dont think he will do more than the tree. I am almost 20 weeks pregnant right now (still sick a lot). My son was beging to do something so we made some clay things that are still waiting to be painted.

• Australia
24 Nov 08
We are in Australia so we dont have those shops here but I know which once you are talking about. I dont mind letting him "help" but he is 5 and messy and I have to clean after him and right now it takes me a whole day to vacume the house (no its not a big house its just me been sick). Oh yes I forgot I made him make some cards the other day so I can lay down for 10 min you would be suprised how hard it is to remove paste of wooden polished floors :))))

• United States
23 Nov 08
Those mints are great looking. How did you decorate them? Will repeat myself again, you are amazing when it comes to making such unique crafts and overall just great craft items. I really admire your talent. I don't do much at home for the holidays since we don't entertain. The family has grown so large we need a bigger house to celebrate so we go to my brother's house or one of our daughter's. We don't have a Christmas tree but do celebrate Christmas with our family.

• United States
23 Nov 08
You take a york peppermint pattie....or a pearson's mint...I used a scalloped circle cutter for the outside..just cut two of the same color...then on white I stamped the leaves etc...colored them in and used another circle cutter a bit smaller so the colored edges stuck out....use double faced tape to tape them to the mints....so easy....so quick and I did sell a ton of them! LOL....


• United States
24 Nov 08
No we use ones already made by someone else. I am thinking about making one this holiday season. We do make ornaments to set on the table each year.

• Canada
23 Nov 08
I am no good at crafts but I sure appreciate getting them for gifts and unfortunately I find no one does crafts much anymore at all at least not around here. The elderly ladies do crocheting but don't sell it they donate it for gifts of charity but that's it. Good job my friend.

• United States
23 Nov 08
Jill, You simply amaze me. I wish I could see all your crafts. My mom used to be very crafty, especially at Christmas time. I just don't have a crafty bone in my body. So how do you make the cute little mints? leenie

• United States
23 Nov 08
Those are really neat! Do you sell them or give them out? Do you put your business information on one side when using them at craft sales? Thanks for sharing that with us. :)