What are your plans for this weekend ? What about payout ?

Ipswich, England
November 28, 2008 4:36am CST
I am going to the mountains this weekend starting... ow in just a few hours, and i wanted you guys to know that when i get back here i will be sure to check your progress in my absence. I hope many of you have reached the payout (or will in the remaining time) but i know i won't as i have only 7 $ and a few cents. How about your plans for the weekend ? Will you reach payout ?
7 responses

•
28 Nov 08
Hi elitess, Ohhhh!!! I wish I was coming with you to the mountains, nope I don't think I will reach my payout either, but never mind, I shall be busy Mylotting way this weekend and not doing much but enhoy yourself and see you when you get back. Tamara

•
28 Nov 08
Hi Tamara, I may or may not it is that close but if we don't just think we have a great start for December so guaranteed a nice payout mid January just when really needed eh! Hope all is ok with you. I have been ill all week so not posting anywhere, Huggles. Ellie :D

•
28 Nov 08
Hi Tamara, Can't send PMs either only receive them, so sorry Elitess but will have to reply within this discussion. No I never made it to Steves as today is the first morning I managed more than coming down stairs to lay down again on sofa. Sorry to hear you have not been well too. I have had enough of it already. Used to being so active, off to bed again now. Love and Huggles. Ellie :D

• Ipswich, England
2 Dec 08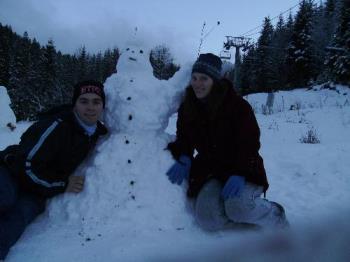 Hi there Tamara, it would have been nice to have you with us as we could have had more fun and it would have been easier to take pictures to all of us:) I will show you one of the pictures we took while using a hand made tripod out of snow

. I will have to increase my earnings in the following weeks as well. P.S.: Ellie, don't worry, it doesn't bother me at all if you respond here :P

• China
29 Nov 08
I have to find job this weekend.A job fair will be held in our campus.I guess it will attact hundreds,even thousands of people.A host of people will boring me.

•
28 Nov 08
Hi Elitess, Well a weekends in the mountains sounds delightful, have a fantastic time. On a positive you will already have nearly made payout for next month upon your return eh! I should I think I have about another 42c to go but have been poorly and not here as much as I usually am so if I miss it like you I will have a good payout for December in January. Huggles. Ellie:D

• Ipswich, England
2 Dec 08
Hey there Ellie. I wonder what you did after all. Did you reach the payout or are you up for it this month. I will probably get it in January as it is very close to miss it... ow well, not that close, but 2,5$ can't be that hard to make


• Ipswich, England
8 Dec 08
Hi there Ellie again. I have decided to raise my payout limit to 25$ as i want this to motivate me into posting more. I decided to do this as i thought that if i get paid in January again and start from 0 again i won't have to much motivation for a while, so now with almost 10 $ before the half o December, i am quite motivated to reach the limit in a few months (perhaps until the end of January. It would be nice to use the money for another special gift for my girl.


• Canada
28 Nov 08
today, i'm having satellite hooked up at my house. my husband gets paid from work today, so tonight we will be going out for supper and then possibly to a movie. tomorrow morning i will go grocery shopping. tomorrow afternoon, my husband's parents are coming over to visit. Sunday morning, we'll go to church and then in the afternoon i'm hoping to start on my Christmas baking (depending on how i'm feeling)

• Ipswich, England
2 Dec 08
Hi there Princess Mel. I think that you had the most busy weekend of all the responders here so that's what made you earn the best response. I wander if you manage to do all those things and please tell us if you started on the Christmas Baking already





• Ipswich, England
1 Dec 08
I am sorry for you and the Mumbai attack people. I have heard that all terrorists have been captured at last. It is sad to know such people exist who would just kill others like this. I can only share my condolences and hope this will not happen again.

• China
28 Nov 08
Hi,I think i am in the same situation to you, I am have have around USD5.00 in my account,so this amount have to roll over to the next time. I hope that I can reach payout next month, but it is hard to estimate,because this USD5.00 takes me 2 months. But I am not here totally for money...Wish you good luck.