Take A Look At This Stump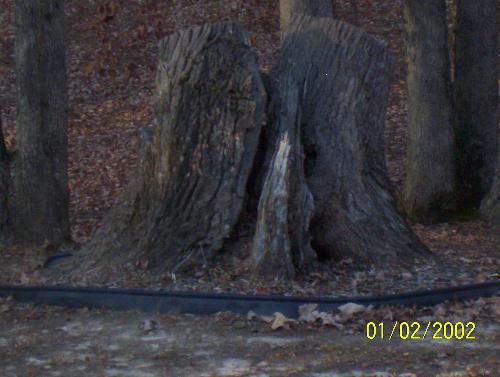 United States
November 28, 2008 5:31pm CST
that is in my front yard. We had to cut the tree down because it would've fallen on our house because it was rotting from the inside and had a hollow opening from the bottom. It was two trees growing together on the same spot. Anyway, one day my mom and dad were over and dad was looking out the picture window and asked mom if that was a Virgin Mary statue out there and she told him no and when she looked at it, it really does look like a Virgin Mary statue!! I was floored!! I did want the stump removed but after seeing that, there's no way I'd have it taken away!! For some reason, it's there and I'm NOT going to take it away. Now the picture may not come up as clear as I'd like it to be but you can kind of tell by looking at the very center on the left side of the center where it could be made out to be her arms under the robe she wore. I've thought about painting it so it'll stand out more but when we get close to it, the idea of it fades but far away it looks like Mary. What do you think?
7 responses


• United States
28 Nov 08
I'd like to do something with it so it won't break off or rot away but I'm not sure what to do just yet. I'd like to paint it in the blue and white colors that she wore or what we've seen in pictures of her but will the paint alone protect it or is there something else I should do? Do you know?

• United States
29 Nov 08
Maybe a water seal product, like Thompson's Water Seal would preserve it. Hubby says perhaps you would put a spray urethane sealer on it. Tung oil is good, as well. You would keep the lovely natural coloring.


• United States
29 Nov 08
When seeing it through my picture window, it really stands out. It's really amazing. And what's even more amazing is that dad spotted it. He's not really religious, but he does acknowledge God, Jesus and of course Mary but since he had a major heart attack in Dec of 1990 and almost losing me the month before in a house fire, he's changed his way of thinking and he now prays to himself. Every now and then he'll go to church but not often and he went to every healing mass that the church had and now he's cancer free. It's just awesome for him to see that and now I'm not letting it go anywhere. lol

• United States
29 Nov 08
At first I couldn't see it, I was trying too hard. Then I tok off my glasses, let my eyes loose focus, then it popped out at me. Thats a nice reminder to see everyday, I would leave it too. You can put some kind of wood sealer on it to preserve it. It would probably make it stand out even more.

• Canada
29 Nov 08
Only to the point where one's eyes may play tricks on them, does it look like the Virgin Mary statues. I can see how the image in the middle, and the enclosure it is in could make it appear that way, but when one takes a close enough look, it's just the colouring. Our eyes and our minds play tricks on us sometimes. I should know, I'm almost blind, and this stuff happens to me all the time. I mistake things for all kinds of things. I am now in the habit of looking at things extremely closely.

• United States
29 Nov 08
Getting close to it takes it away but seeing it from afar it appears to be a statue. Yes our eyes do play tricks on us for it did my dad but I can see where he would see it to be a statue from the picture window. I guess you'd have to be here to see it in person to really get a good look at it to see it. My picture didn't come out all that great.

• United States
29 Nov 08
I will take a look and comment in your picture section..

• United States
29 Nov 08
LMBO! Sell it on ebay?! Oh gosh, what gives gal?! LOL Thanks for the laugh but no, I think I'll keep it for a while. Besides, it could hold a curse if I move it. Nope, it's staying right where it is.

• United States
29 Nov 08
Well, if you really believe in curses like that, then keep it..The reason I said about ebay, isn't that what happened to a stain on a napkin or something like that someone sold on ebay because it looked like Mary? That is just the first thing to pop in my head..lol

• United States
29 Nov 08
I can see a light area which does look kind of like the Virgin Mary however I would not have see it or recognized as such if you have not put the suggestion into my mind.

• Boise, Idaho
15 Dec 08
What a wonder. And at this time of year too. That is cool for you. And isn't it odd that it was two trees growing together? Those usually get nipped in the bud. I would be floored too. I wouldn't touch it. Bring it to some people's attention and let the others go or you will drive yourself crazy. Can't you take a close up of it? I really can't make it out!

• United States
29 Nov 08
Hubby and I are looking and we see an angel with outspread wings. I guess we are just seeing it differently. I do not know if I would paint it, but maybe do some wood chiseling or wood burning to enhance it.