Dare you to move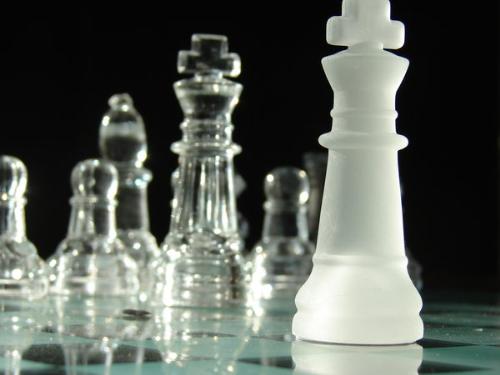 Canada
December 5, 2008 2:25pm CST
This is one of my favorite photos that I took last year around Christmas time. My father gave me this set of chess (even though I have no clue how to play) I thought it would be interesting to do a photoshoot with them since I loved how you could really manipulate the colors of the clear pieces. So here it is for all to enjoy.:)
5 responses

• United States
5 Dec 08
Wow, you took that photo yourself? It looks really cool. I like chess too and I basically knpw the rules and how to play but everytime I try in real life I lose miserably. I even bought a chess game for my cell phone a while ago and even when I set it on the simplest difficulty level I still got my butt kicked.

• Canada
5 Dec 08
Yeppers that photo was taken by me :). Hey at least you know the rules and the workings of a chess game. I try to stick to checkers haha

• Australia
6 Dec 08
It may be one of your favourites, Amanda, but you have moved on a long way since last Christmas, and your compositional and lighting technique show much more flair (no pun intended) in your more recent work. This has promise though; why not re-shoot it? Maybe even a new shoot each Christmas... there's a project! Maybe you could incest in (or make) a light tent to give you more control over the lighting.

• Canada
6 Dec 08
Oh you gave me a good giggle David :) I am actually going to do just as you suggested when I go home. The fun part is though I'll finally have an SLR by that time a Nikon D90. Right now all of my photos are taken with a Sony Cybershot DSC-H2. I am hoping to learn more as I rummage through books and really start to get into photoshop. I have made a few designs from scratch in photoshop and I have to say I'm loving that more and more each day. :) I'm a person who thrives on learning especially when it comes to my hobbies. I have to admit in shame though I don't know all the workings to my camera. Or all the technical photography jargon. Slowly but surly I am getting there. :) many thanks for your support


• Canada
5 Dec 08
Many thanks Jill. I love this set and will cherish it. :) Thank you for your kind compliments I hope you have fun playing with your grandaughter :)

• United States
5 Dec 08
I like the caption you put with this photo. It is a very good pic. Have you tried using different lighting to capture a different view of this?

• Canada
5 Dec 08
I did in the moment. For this photo I used natural light from a bay window as I always have been fond of it. I tried different angles and have a few other shots of this chess game. I think when I go home to get the box I'll take a few more and see what I can come up with I'll finally be getting an SLR so hopefully that can help out a bitl

• United States
6 Dec 08
Fantastic focus! A very beautiful shot! That is a very beautiful chess set! Even if you aren't using it to play, you are definitely putting it to good use by photographing it!