A Serene Residence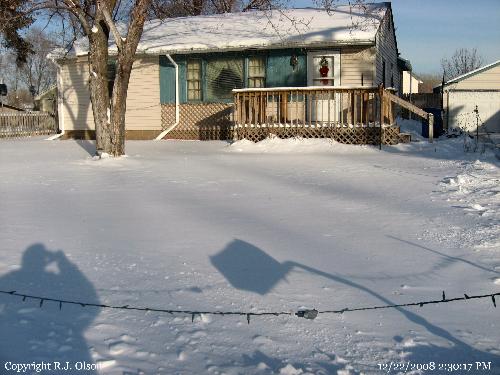 United States
December 22, 2008 3:37pm CST
It was a blistery cold and windy day today. But with the sun shining down it warmed the heart if not the body. The sunshine made for a good serene/peaceful shot of my meager residence here in Minnesota. This shot was taqken at 3:30, an hour before sunset so the shadows were very long. I love the shadow of the mailbox in this photo. Even though it's very cold out, this shot warms me both inside and out seeing it. Does a sunny cold wintery day feel warm to you as you stare at the beauty of the sun reflecting off the snow and casting it's long shadows upon the snow? HAPPY HOLIDAYS FROM GRANDPA BOB !!~
10 responses

•
22 Dec 08
Minnesota remind me of those old cowboy films on the tv when we were kids,watching the cowboys hearding the cattle through snow storms with a pretty girl in tow ,never a hair of place and looking lovely.They don't show them anymore not very PC so thats it,Do you have cattle still where you are? I don't suppose you do.

• United States
22 Dec 08
Well no cows in my yard and the pretty girl is at work so she can't be towede at this time.

But the rest is a very peaceful serene setting none the less. I actually live in a city of 60,000 and the last farm near me closed down due to gropth about 5 years ago. Used to be some dairy and beef and horse farms withing 10 miles just before I'd bought his house.
HAPPY HOLIDAYS FROM GRANDPA BOB !!~

• United States
23 Dec 08
We had a day like that today. I was looking out the window at a snowy field across the street from my house. It was sunny and had a beautiful sparkle to the snow, so pretty. I do get a warm feeling when I look into the peaceful beauty of the snow.

• United States
23 Dec 08
I love a frsh blanket of snow on a cold wintery day. So calming most times. That is until the idiots come out and try to drive like summer maniacs. HAPPY HOLIDAYS FROM GRANDPA BOB !!~

• United States
22 Dec 08
I feel for you in that really cold weather. Ours was low today and my husband and I went out to cut some greenery for my entertainment center where I have my manger scene. And I almost froze although we weren't out there too long, although we did walk farther than I thought we would. So I can imagine how you feel being out in that minus wind chill factor. Ours got down to about 9-11 today and that was cold enough for us. It never got above 32, but still in the low 20's windchill factor. I love to look at the snow when the sun is shining. It is so bright and beautiful! God knows what we need, doesn't he!

• United States
22 Dec 08
No need to do that. I love the snow and cold actually. I am used to it and expect it each year. God and Mother Nature are tops in my books when it comes to scenery and nature in general. HAPPY HOLIDAYS FROM GRANDPA BOB !!~

• United States
22 Dec 08
To be honest with you, when it is cold I like it to be cloudy and sometimes rainy. When it is cold and sunny I associate that with static electric and get shocked all the time when doing anything, reaching for a door knob, patting the dog or cat, touching just about anything. haha

• United States
22 Dec 08
I love the siunshine on snow covered scenery etc. All except when driving. The glare on the white snow is more glaring than on a hot humid sunny summer day. Keep moisture in the air with a humidifier to avoid static electricity. Mu shadow is so wide as the heavy coat I wear actually. You've got to have them large coats for warmth etc here. HAPPY HOLIDAYS FROM GRANDPA BOB !!~

• India
12 Jan 10
For me being in India a picture without the shadow of the mailbox would have looked equally beautiful. Snow has been evading me no matter how I plan my holidays to be where it snows - Kashmir, Switzerland, Denver, and a few US states - all in vain I say


• United States
3 Jan 09
When it is that cold the sun shining can be a bit deceptive. You think it may be warmer than it is. Sometimes we will get in the car and go for a ride just to get out. Cold or not sometimes you just have to beat that cabin fever. Love the picture.

• United Kingdom
23 Dec 08
Well, that definitely looks like a nice picture, quite relaxing and peaceful as you say. I'm not sure I have anything as nice close to where I am. I have one row of houses behind me and then it's nothing but countryside and this is what I really love! I love the countryside and it is so peaceful. I like to go cycling in the country as well. Andrew

•
23 Dec 08
i must be honest, grandpa bob, i look at all your posts and envy your expertise with a camera, but this is STUNNING !!! i really love this one, all your pix are brilliant, the snow scenes and lights are beautiful and really sum up this time of year. but your home is lovely , i just wish i could visit. anyway long may you post pix on mylot. Happy holidays from England !!! i would love this as a screen saver, but i have my beloved polar bears at the moment.


• United States
22 Dec 08
What a peaceful scene that is Grandpa! I would give anything to have that much snow. We have had only 1 dusting. Bitter cold a few nights, but no measureable snow. Yes, the sun shining on the snow and everything covered in fresh snow does look very peaceful. Makes me want to put on a pot of homemade vegetable soup and a pan of cornbread!