Update On My Mom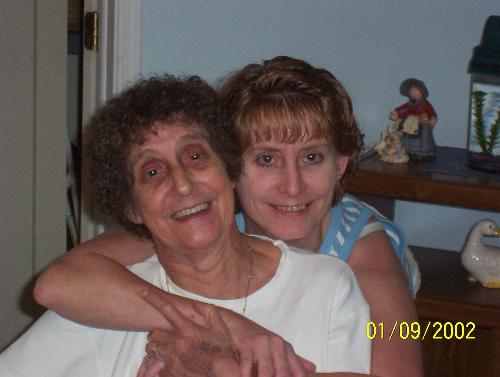 United States
December 28, 2008 5:35pm CST
She's doing a little bit better today but, she's was so darn depressed since Christmas Day. I mean out right crying her heart out. I've been at my wits end as to what to do to lift her spirits. Christmas Day I decided to wear a sweater that she had given me about 3 years ago for the first time to show her. I've been saving it for a special occasion because it's a nice sweater that's well made and I just wanted to keep it looking really nice but decided Christmas would be a great time to wear it. Mom loved it and wanted to dress up too but couldn't find anything to fit the holiday because everything she had was old and tattered or stained. I felt terrible! So she finally picked something out and we went out to dinner then we went to see the two places that I wanted them to see of Christmas Decorations and mom really enjoyed that inspite of dad's snappy attitude. Then we get home, she breaks down again and tells me that dad will come in and say something that's so insensitive "What are you bawling about now?" Oh I was quite pissed off and let him know it too. I told him to knock it off because saying that to her is belittleing her feelings and that she's been sick for 8 months which is a long long time and that she needs his support not his cut downs. He nodded so I hope he understood but I don't know how much of it sunk in. Dad's patience is next to none. He has no patience at all, never has and never will but, he WILL treat mom right or I'll have something to say about it. Anyway, the night ended when I got mom in bed and I went home. I was so touched by her not having any new clothes in a long time so I decided to buy her some from blair.com and I found two pants sets for her and ordered them so they should be at her place in a week. I asked the company to NOT put my name on the reciept because I don't want her to know who got them for her because I know she'll return them. ARG! lol Since she's feeling better today, hopefully she's on the up and up and the new clothes will boost it even more. We can only hope, right? lol Then she told me this morning that she had something terrible happen to her yesterday but she didn't tell me because she didn't want to worry me especially when she heard about Gracie. She had been taking this medicine for her dizziness which came from her old doctor. Her new doctor gave her something else to try but it makes her feel dopey so she opted to take the old medicine for just one day so she could get some things done. Well for some unknown reason the medicine turned on her and made her numb from the top of her head to the tip of her toes! She couldn't do anything at all but lay on the couch all day long which she hates with a passion but she had no choice because she couldn't feel anything and was afraid she'd end up in the emergency room again. I just talked to her a little bit ago and she said feeling has come back everywhere except for her neck and hopes it'll be back later on tonight or tomorrow. I still wish she'd tell me what's going on so I can be there for her or at the very least be ready to head out the door when and if she needs me. I know she doesn't want to worry me but gosh, I need to know these things so I can be prepared. Who knows, she may not survive one of the treks and I need and want to know. No word on the house selling yet but I will keep you posted. BUT there is some great news!! My nephew has a friend that wants to loan him the money so he can pay mom and dad what he owes!! He has to wait till Monday to see if this gal has the money to lend and hopefully she does!! Then if mom and dad get their money then they'll have enough to make another house payment!! That is, unless the house sells before then.... We can only hope on that one too!! lol
9 responses

• United States
29 Dec 08
I wonder if her old medication mixed badly with the new stuff she's been taking. That sounds pretty scary. I hope she gets the rest of the feeling back in her neck...that's a bad place to be numb. I'm keeping my fingers crossed for the house situation too. It's going to work out....I just KNOW it!

• United States
29 Dec 08
I'm glad nothing more happened to her. I am sure it was a reaction to mixing meds. I would definitely put them up. Hopefully they get the money and sell the house. That would be the best thing that I can think of to happen for them right now!! Good luck!!

• United States
29 Dec 08
I used to order clothes for my mom from Blairs, too. Their things fit well and look good. I hope she really enjoys her new clothes. I'm glad you had a nice dinner with your folks. I know she'll start feeling better real soon. Loads of luck about the house.

• United States
29 Dec 08
Oh I love the clothes from blair! I've ordered a few things from there as well and they do fit well and their prices are so reasonable! I hope she enjoys her new clothes too when she gets them. Thank you for your well wishes!!

• United States
29 Dec 08
My goodness, so much you go through Cats, I really pray that next year things will start to improve and you get a big break..

• United States
29 Dec 08
Actually this is not normal. Usually life hands us a few lemons here and there but never ever like this! It's been the worst year in all of my 44 years of life on this earth. Next year just HAS to be better!! It just has to be. I'm wishing Thursday would hurry up and get here because that's New Years Day!!

• United States
28 Dec 08
Thanks for the update on your mom. You know Cats, things are going to get better. Next year is going to be so much brighter then this past year. Its too bad your parents don't live closer to you. Once the house sells and that worry is off them. Have you all talked about them selling the house they are in now and moving closer to you. I know they haven't been there that long and should have moved closer to you then they did. You have been such a good daughter, you and your hubby have gone way beyond your duty. But then thats who you are, you have done what was needed. I feel sorry for you and hubby with all that you have both done and been through too. Its got to be so tough for both your mom and dad, feeling depressed is normal for a person like your mom, she has been through alot. But then your dad has been through it all too. Thats really scary about the medicine thing. Is she going to talk to the doctor about it? I think she should. Take care.

• United States
29 Dec 08
What a nice picture of you and your mom. I am glad that she was able to get dressed up with you and go out for a little bit. I know exactly what you mean about your father. My mother has been really sicr for the past nine years. You would never know it because she has such a great spirit. Last year she was in and out of the hospital at least six times within a two month period. All my father did, was complain, that there was no food in the house, the bills were not getting paid etc. When my mother came home, she had an aide come in to help her with certain things. Whenever she asked my father for assistance, he complained to her that he was doing worse than she was. In other words for example, his splinters were worse than her "C". Thank God she is doing better, and of course my father is still complaining. I hope your mother can get her spirits up, because that plays a hugh part in recovery from anything. I am not sure what problem your mother has, but I wish her the best, and as for you, you are a great daughter, hang in there, your mom needs, loves and appreciate everything you are doing to help make her life better.

• United States
29 Dec 08
What is it with these men? Is it that they've never had it really bad so they don't know when they've got it good? What ever the case, I'd so love to put the two together, your dad and mine, and clock their heads together!! lol Seriously though, I would because they both need a reality check! ARG!! God forbid, if your mom passes away before your dad, he's going to find out the hard way how good he did have it! That's the worst way to learn by sometimes it takes something that harsh before they do learn. Don't get me wrong, I love my dad but he can be so insensitive and makes things worse. I told him the other night to knock it off and he nodded so hopefully he'll heed what I said. He did come into the kitchen and gave mom a hug which really surprised me but he did do it even if I asked him to, he did do it. I asked him to do it once before a few weeks ago and he wouldn't but this time he did so maybe, just maybe he'll tone it down. I can only hope.

• Canada
29 Dec 08
My goodness this has been a living hell for you. Please do keep us informed as to what's happening. Although we have never met your story has touched my heart to the root. I too have had many family problems and it hurts bad. I want to say this to you and I do mean every word. I love and respect you very much for being a good daughter. You sound so much like the same person my daughter is. You're definately made from good stuff. Happy New Year Hon. (((BIG HUGS)))

• United States
29 Dec 08
Well, as it seems, hubby got a phone call which gave me the time to respond to you before I go to my parents!! lol Yes it has been pure hell for me and I wish it would calm down or straight up and go away!! I finally snapped the other night and again Saturday night because I've come to the end of my rope but I'm back now and doing the normal thing, trying to keep my sanity though it all. Thank you sooo much for your sweet and kind words!! I mean that with all the sincerety I can muster!! I try my best to be a good daughter to my parents but sometimes I just want to rattle them but I don't. I have had to be stern with them a few times and that's HARD to do but I had to to get them to think about what they're doing or not doing. Sometimes it works and sometimes it doesn't. Thanks for saying I'm a good daughter for I do try!! lol I'm so glad you have a good daughter, not many have that in their lives which I find to be very sad. As for the New Year, COME ON THURSDAY!! I CAN'T WAIT!! Because it just has to get better!! This year has been the worst year of all of my 44 years of life! Next year has to be better! It just has to be!! ((((BIG HUGS)))) to you too!!


• United States
29 Dec 08
The changes your mom is making in her meds without even asking a pharmacist can actually be causing her depression. So can the side effects from these actions. That probably explains a lot of what is going on with her, then of course your dad does his thing and makes it even worse. I am glad she is better, and it is great to send her something new.Those side effects are scary, though, as well as depressing.

• United States
28 Dec 08
I am so sad to think that your mom is so depressed...and your dad isn't helping the situation... I am glad that you went out to dinner and bought some clothes for your mom... I sure hope that medicine wears off and she can get back to feeling right...You don't think she took too much of it...just wondering... Everyone is so overwhelmed in your family...I sure hope things work out soon...because all the stress can make everyone sick... It would be great if your nephew could borrow the money then your parents won't have to worry... I pray for things to get back on track soon...and I hope Gracie gets better soon too.... Hugs...

• United States
29 Dec 08
It drives me nuts knowing she's depressed because I don't know what to do to make her happy. I love her to no end and will do anything that I can to boost her spirits but I don't know what to do.... As for her medicine, I can't honestly say what happened for I wasn't there but being that she's worked in the hospital before, she knows better than to take the recommended dosage but then I don't know for sure. Thanks for all your well wishes Feona.... I hope they all work out too. It would be such a relief to get some of the load lightened or taken off completely.