Poor Grandma!!!

United States
December 29, 2008 10:46am CST
I was visiting some friends a while back, and it was Grandma's 100th birthday. The family wheeled Grandma out on the lawn in her wheelchair where the activities for her party were going to take place. Grandma couldn't speak very well, but she could write notes when she needed to communicate. After a short time out on the lawn, Grandma started leaning off to the right, so some family members grabbed her, straightened her up, and stuffed pillows on her right. A short time later, she started leaning off to her left, so again the family grabbed her and stuffed pillows on her left. Soon she started leaning forward, so the family members again grabbed her, then tied a pillowcase around her waist to hold her up. A grandson, who arrived late, came up to Grandma and said, "Hi, Grandma, you're looking good! How are they treating you?" Grandma took out her little notepad and slowly wrote the following note to the grandson:"They wont' let me
fart
!" how bout you guys......any funny "old people" stories????

4 responses

• United States
29 Dec 08
ROFLMAO!!!!!!!!!

I went to the Christmas parade this year and it was like 10 degrees! we were standing on the sidewalk and someone came up wheeling their grandma up beside of us.. I thought.. how cruel! she had to be 100 and they have her in 10 degree weather! Then the worst part is.. the family left grandma and went off with their friends standing down the street.... and there sat grandma! alone! in the cold! and when the floats passed by throwing hard candy... grandma was getting hit pretty hard! I leaned over and told my husband... that's horrible! and when I'm old... don't drag me out in the cold weather to let me get pelted with hard candy like that!.. my husband said... OH! you are gonna be set out here every year! this is how you make grandma pay for being such a b1tch all of those years! So, if anyone sees me in a wheel chair... in 10 degree weather getting hit with hard candy...... please help me! hahaha!

• United States
29 Dec 08
sooooooo that's where Grandma's get the hard candy from.

*throws left over "gay" skittles at Stormy*


• United States
30 Dec 08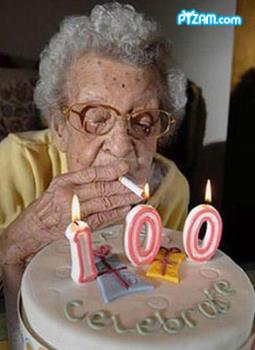 OH! I almost forgot! grandma said thanks for the cake you sent her!


• Australia
22 Jan 09
I saw an old dude that was at least 90 sitting on the kerb and crying his eyes out. I walked on over and asked him if he was OK and if I could help. He then went on to tell me about his 23 year old nymphomaniac wife that was a swimsuit model. I immediately thought that given the age difference, she's probably cheated on him and this is why he was so upset. Turns out the poor bugger couldn't remember where he lived!


• Malta
29 Dec 08
This is really funny. Takes for sharing. You made my day.

• United States
29 Dec 08
That is hilarious! I find it amusing that anytime an elderly person is around everyone feels compelled to "help" them. Why not just leave them alone and let them do their thing. Keep them from actually hurting themselves or others but sometimes you just want to say "Back OFf"


• United States
29 Dec 08
that's right fasttalker.

Grandma made it 100 years so she doesn't have anything to loose. let the wind fly where it may.