The Book of Bunnys Suicides -- Disgusting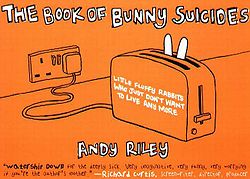 United States
January 14, 2009 9:37pm CST
I was watching a news report about a school parent trying to get a book banned from school libraries...but her complaint was overruled and the book will remain. And I was APPALED. Its the first time i'm hearing of this book-but it's disgusting! It's called "The Book of Bunnys Suicides." The title alone should turn parents off. But the book shows a bunch of bunnies killing themselves in weird ways. One page shows a dead bunny with a bunch of bee stings, a slingshot next to him and a buzzing beehive in the tree above him. Another book shows a bunny with a rope around his neck, and the other end if attached to a giant clocks hand. How can a book like this be in a SCHOOL library!?!?! I'm all for free speech and all the 1st amendmant...but there HAS to be boundaries, ESPECIALLY in schools!!
10 responses


• United States
16 Jan 09
LOL! Well that may be true but I still think it's quite a disturbing book; really for any school. And I see where it was suppose to be written in humor; but it's way to dark to me, and plus--highschool kids don't need any more ideas!

• United States
15 Jan 09
LOL! ok..it is supposed to be "dark humor" of course, not to everybody's taste of course. personally i find it hilarious, but im rather sick. like someone above mentioned..WHY is it even in the school library..the city/county library i totally understand, but not a school library. highschool is more "appropriate" (if a book that is based on humor alone has ANY reason to be in a school library at all) but for sure not an elementary library. i havent seen the report..is it in an Elementary school library?

• United States
15 Jan 09
That is ridiculous! How could this book end up in a school library? I understand that it is probably satire, but sick satire. Definitely not appropriate for children. Children are impressionable enough with getting new and awful ideas from books at school.

• United States
16 Jan 09
Yeah thats exactly what I thought! Kids are impresionable and this book shows them very innapropriate things. And the art on the pages is quite distubring! When I saw the bunny that was kid by the bees it was really haunting!


• United States
16 Jan 09
Well I'm hoping the more people know about it, the more complaints schools will get--maybe it'll get taken off the shelves after more and more parents complain. I bet the news story will do the same

• Malta
16 Jan 09
I am against freedom of expression but I find this book disgusting. I really dont know what was the aim behind the author's intention to put this book on the shelves for sales. However putting for small children to read is not only disgusting but obscene but also morally wrong. I believe that the law should intervene here. Our youths should be safeguarded.

• United States
16 Jan 09
Yeah it's really disgusting, and kids/teens dont need a "cutesy" "funny" book showing them how to kill themselves--and probably makes it look fun!

• Canada
15 Jan 09
I can not believe that they would allow such a book in schools. What message are they trying to send to kids. That it is okay to kill yourself? I am not positive but I do not think that they have any types of books like that here in Canada, but it sure makes you wonder. I am now thinking about going to my kids library to check out what they have there. I hope that more parents would check that out and fight for their rights not to have these types of books in their schools.

• United States
16 Jan 09
Yeah exactly! School's are suppose to be this place that has a lot of rules and boundaries that they don't let the kids cross--but in my opinion having a book like this in the library is crossing a big line!!


• United States
16 Jan 09
Oh yeah! The younger the kids the more adult they're acting (and not in a good way). Books likes these defeniatly don't help!!

• Pittsburgh, Pennsylvania
12 Mar 16
@lilyofthethorns
I agree this book is DISGUSTING I am for the first amendment too but I don't condone anything at all that shows animal cruelty I just hope it doesn't let kids get ideas and try to harm and innocent bunny!

• United States
15 Jan 09
The don't allow great books like "To Kill a Mockingbird" in the school library. Ones that may be harsh looks at reality, but educational nonetheless. But they allow this little dumb book that has no educational value whatsoever to remain in the library. This is ridiculous! If I were this parent, I would have a petition circulated and bring an appeal. This is nonsense, and if its left alone, I see children actually attempting these crazy stunts.

• United States
16 Jan 09
Very good point! Even if the kid isn't really trying to kill themself...what little boy wouldn't think it would be really cool to shoot a beehive with a slingshot?! They probably do it now! lol. But they dont need anything making them think it's okay. I didn't know To Kill A Mockingbird and other books like that aren't allowed in schools! That does make it a lot more ridiculous for me!

• United States
17 Jan 09
It all depends on what school district you are in. It wasn't allowed in Cincinnati Public Schools when I was going, but we had an excerpt in our English book, and we watched the movie too. You are so right. This book has no educational value whatsoever, is promoting violence and causing harm to self and others, yet its still there. I wish I were in that city, I would let them have it!!!

• United States
17 Jan 09
LOL! Come on down for a visit and give them a piece of your mind!! :P I'm really happy the boys mother was able to get the word out through the news!


• Philippines
19 Jan 09
This book should be banned. They have to end this ridiculously. It is strange, bunny killing themselves.

• United States
19 Jan 09
Yeah! That's what I thought! I mean...who comes up with a book about bunnies just killing themseleves in all these sick ways..? It's really bizarre! lol