Fashion!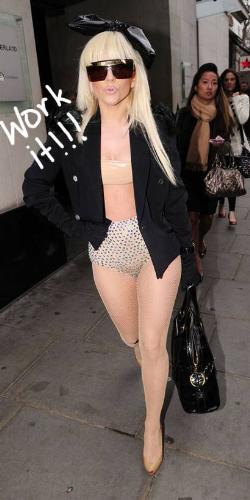 February 3, 2009 3:30pm CST
Lady Gaga is never wearing a coat and is always in a bathing suit. The best part about it is, this isn't even an act! She dresses like this to go to the grocery store! I absolutely love her fierce and creative style, I think she's bringing something to music that has not been brought in a long time. She's a character, a vocal talent and has unique stand out pop music. She seems like a person that was born a star. What do you think of GaGa's fashion choices!
3 responses

• United States
28 Feb 09
I like her style as well. I feel she is very talented and I love that song Poker Face. I am listening to it right now. I also like just dance too! I mean I cannot wait until she comes out with some new music. I normally do not go to the clubs but to hear her music I would go. I am hoping to see more discussions on this and I plan on starting one now. If you would like to look for it please do, we must have something in common sense we both like Lady Gaga! Take care


• United States
7 Jun 09
I agree with you - she definitely IS a character - and her fashion sense, if you can call it that, is very "out there". I don't necessarily look up to her, though, and even like what she wears - because I honestly find it a little weird; as I couldn't imagine NOT wearing normal things like jeans & hoodies & sweatpants. But kudos to her for bringing some originality & eccentricity to the scene.

• Germany
3 Feb 09
i dont know whats good about her