many kids or few kids?

Philippines
February 8, 2009 1:43am CST
how many kids would you want to have? Me, i want to have 2 kids. For me, if i have 2 kids, i will be able to take care of them properly and i will be able to give them the proper attention they ought to have. in my opinion, when you have too much kids, you wont be able to take care especially when you're financially insufficient. but when you are Financially able, you will be able to take good care of them especially when they have large age gaps. what do you think?
5 responses

• India
8 Feb 09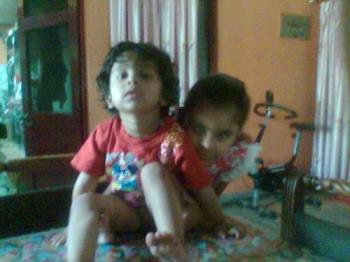 I have two daughters and it is a real task to raise them. My father-in-law are four brothers and three sisters, and they tell that it was not in any way difficult for his parents to raise seven children. My mother-in-law also are three sisters and three brothers. But things have changed now. Raising a kid has become very costly and also full of problems.

• United States
8 Feb 09
I have two children in my current marriage, and four from my first marriage. I think it depends upon your goal in life how many children you have. It's not always about monies. There are many large families that do just fine on the average household income, and some that do not do well who have few children. The plus about having large families is there are older children to help care for younger children. That's how it was for my mother who grew up in a household of seven children. So, it's really about what you the person can handle. If you can only handle two, then two is all you should have.

• Philippines
8 Feb 09
Whether finacially able or unable, I would also prefer few kids... Population explosion is a social issue..

• United States
8 Feb 09
I want to have atleast two kids but maybe someday I will decide to have more. it would just depend on finances and if I felt me and my husband could handle another. But for sure I do want atleast 2.

• China
8 Feb 09
For many years, China has practised the single child policy, but recently for single child parents, they are allowed to have two children. They can have company at home, and they learn to care about each other. When grown up, their burden for caring about the elder generation will be lessoned. The rational behind of course is to avoid decrease of quality population and lack of labor resources, a puzzle for the modern society.