Mysterious photograph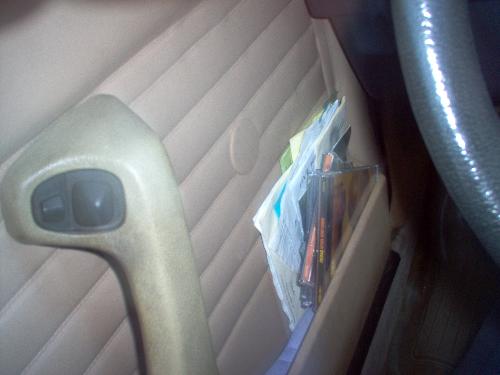 United States
March 31, 2009 11:38am CST
I was just checking the memory card I had in the camera yesterday and realized there was a photo on it I didn't realize I had taken when I hit the button on the camera. I was driving around taking random photos and somehow I took a photo of the pocket on the inside of the car door! I was about to delete it but then I thought about the stuff I keep there and it made me wonder what people have in their own cars. I have menus from places that serve food to go, spare sunglasses, lotion, pens and sometimes (like now) a few CDs. What's in your car?
5 responses


• United States
7 Apr 09
Rolling on the floor laughing out loud!

• United States
16 Jun 09
Um... bedside commode? As in a potty chair?


• United States
8 Apr 09
For the first couple of months I had my car I also didn't have a steady home so I was pretty much living out of my car. Now I try to keep very little in there. I keep my tripod in my car in case somebody wants me to take some pictures or I see something while driving and my car is always with me so if I need it at home it's there too. I think besides that, my sunglasses in the little compartment overhead, and the paperwork necessary that is all I have in there. Oh, wait, I moved 300 miles north for the time being so my keys for down home and the storage unit down there and all the little cards for the shops that go on keychains and stuff are in the glove compartment. So tripod, sunglasses, registration, and spare keys. That is all.

• United States
8 Apr 09
You are good! I am on the go quite a bit so I have all kinds of stuff in my car at any given moment.

• United States
8 Apr 09
The pockets in my car door are probably the cleanest in the car. I did have an ice scraper in the drivers side door pocket, but for the life of me, I can't find it now. On the passenger side pocket, I just noticed yesterday that there is a plastic bag in it and have no idea what is in it, or if it is empty. The rest of the car needs cleaned out. They sure can get dirty really quick when one tends to live in their cars like I do. I always seem to be on the run.

• United States
8 Apr 09
The passenger door has some incense that occasionally makes the car smell nice when the temperature rises and some lotion. I used to have the lotion on my side of the car but my other half kept asking for it and I never use it because I hate the smell so now it is on the other side of the car where he can get to it.

• United States
31 Mar 09
I don't keep a lot of extras in my car. But I do have a map for travel, flashlight, comb, handi wipes, blanket, window scraper for winter months, a pair of gloves, pens, band aids, etc.

• United States
1 Apr 09
Band aids are a good idea though I think it might get too hot here. I had gum in the glove box and forgot about it. I took it out later and couldn't peel the paper off, lol!

• United States
31 Mar 09
My camera likes to take random, unwanted pictures too.

. I pretty much live in my car. I have my dry cleaning, my backpack, tons of textbooks, my pursue, cigs, and Jimmy John's chip wrappers. lol. It's time for a cleaning, needless to say.

• United States
31 Mar 09
That little pocket in the door is probably the most organize area of my car. I have extra shoes, a pashmina, all my teacher stuff...