Would you ever get a tattoo with someone's name on it?

Philippines
April 5, 2009 11:18pm CST
Tattoos aren't my thing. And like no matter how I love a person is.. I'd never thought of getting one to show my love for him. I find tattoos dirty. Excuse for the people who are into tats. We all have preference, some people may find this cool, some people may find it not.. And so I'm one of them. Though there are few tats that I find cute that sometimes I wanted to like put the creative tats on my skin, but of course.. I don't what this permanent ink on me. So what do you say about this? Would you ever get one?

7 responses

• Philippines
7 Apr 09
I don't think tattoos are dirty if they're done by professionals. I don't tattoos and i'm not sure if i'd get one. Not that i don't want it but i just don't have the time for it. It needs a lot of thinking because it will be permanent. I don't think i'd want anyone's name tattooed on my body. I mean there are other better designs.

• Canada
7 Apr 09
I am with you smooch, no tatoos on this temple.

When I was growing up the soldiers and sailors during the second world war had lots of tattoos and they faded into blue and the blue bled terribly so it was kind of blobby. I did not see the point then and think men full of tattoos somewhat warped and do it as a sign of intimidation, especially jail and gang tattoos. Why women do this I have not idea, I love the look of unblemised healthy skin, and lots of tattoos make me question their mental state. Some people are so careful with their food and what they put in their bodies, yet they jab permanent chemicals into their skin with a needle.

Having said that the last thing I would do is put someone's name on me. If the relationship does not work out I do not want to be constantly reminded of "Mandy" or "Susan" and having to explain who this person was.

• United States
7 Apr 09
No way, unless it was someone that I loved and lost, then I might think about it.

• United States
6 Apr 09
I wouldn't get tattooed at all, especially with someone's name! I know a lot of people love getting tattoos and never regret it and some of them are quite beautiful but it's such a permanent thing the I would not want to do it. I've worn temporary tattoos and enjoyed them but I wouldn't have one permanently etched on my skin.

• Philippines
6 Apr 09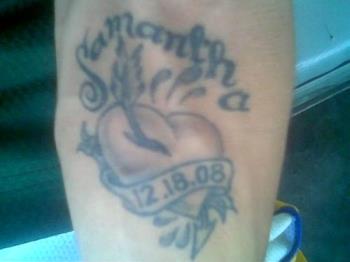 i had done it for someone...i have one in my left arm (a heart inspired tattoo with her name on it), the dimension is 4 x 3 inches... i was thinking of having another tattoo sometime soon, i get addicted to it hehe


• India
6 Apr 09
hi, if you love someone it is not necessary to show with the worldly things he will understand you about doing tattoo in his name obviously it will be the last thing I will do tattoo looks good to see but permanent marking I don't prefer also what will be the guarantee that love for him will remain strong forever unless we are married and made for one another..Happy Mylotting!!

• Canada
28 Sep 09
My husband and I discussed this, not because we were considering it, just because we were curious about the other person's opinion. It would put a whole new meaning to the words "EX wife" since he's been married three times and divorced three times before he married me. LOL He says it's always safeest not to put someone else's name on your body. I agree with that logic. Also, for me, it's too much like being someone else's property. To put my husband's name on my body? To brand myself? EEEEEEKKKKK!!!!! I just don't like the idea.