Banger Racing!!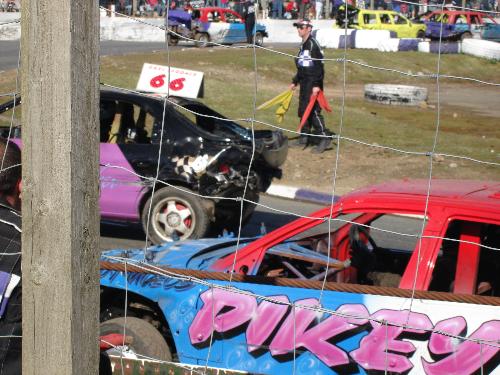 April 21, 2009 7:34am CST
I have recently got back from yet another trip to my hometown and what a great 10 days it was. My mum had told me about a banger racing meeting that was happening whilst we were down there so we decided to go. None of us had ever been before and thought it would be a great idea to take my 3 boys and go. My 8 year old son thoght it was awesome and I have to say that I had to agree with him. My youngest son somehow fell asleep during the races, my middle son amused himself elsewhere popping back to have a look from time to time and my mum found it quite scarey and is not interested in going again! When my youngest later woke he asked me if I could drive my car around there!! Erm, I don't think so!! I am hoping to take my eldest son back in the end of May to watch the buses do it!! Have you ever been banger racing? What was your experience like?
6 responses

• Shingle Springs, California
21 Apr 09
Um, isn't a banger like a sausage or something?


• Shingle Springs, California
21 Apr 09
They might start smelling bad too...



• United States
21 Apr 09
no, i haven't i don't think. is it where they just run into each other? if that's what it is i have seen something like that on tv. glad u had fun. everybody deserves to have fun along w/the normal.

• United States
21 Apr 09
i bet it is. glad you got to go. u are very welcome.

• Jamaica
21 Apr 09
I'm not sure what his is. Do they drive at each other and bang each other up or something? It sounds like fun and I am glad that your eldest son enjoyed it. and no, please don't take part in it! Glad that you had a great time with your family. B;essings

•
21 Apr 09
Hi ya cynthiann Well the main purpose isn't to smash into each other to start with not actually at each other. In the last race, any surviving vehicles go at it until there is just one left! Don't worry I had no intention of racing my car around the track, I have too many windows in tact to even start the race! Cheers cynth



•
12 May 09
Hi Humbug, Oh I love banger car racing but haven't taken my son yet but they o do one nearby me which I am going to take him too. My brother used to race all the time and so did a female friend of mine when Aldershot track was open and I used to go to Wimbledon quite a lot too. We are not too far from each other and I have a fixtures list of all SW events at work, I'll grab one and perhaps we could both go to the same meet, that would be fun. Huggles. Ellie :D