name my puppies!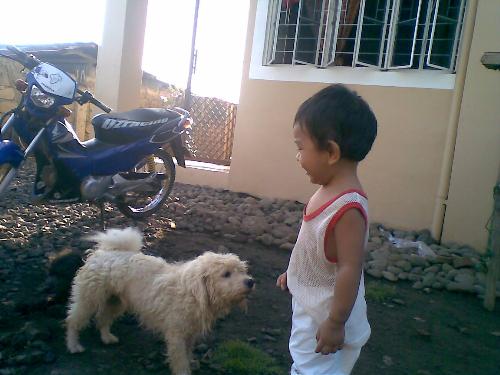 Philippines
April 24, 2009 8:29am CST
very happy lately, why? my dog MoSHI just have another two puppies! yehey! she just gave birth last week for two little cute girly puppies! the poodle puppies are all white,and its very cute...any names you can suggest? i need two so i can start calling them as early as now!:)
3 responses

• Philippines
24 Apr 09
These are just the names that I could think of from the top of my head. Well, actually they're from your discussion details.LOL! Since both are girls and you've mentioned that they are cute girly puppies..why not Cute and Girly?

You can derive names out of those too. Another set of names that I derived from your details are 'Oodle' from poodle and 'Whit' from white, or just 'whitey' perhaps.

Anyway, Im sure you mightve already named them now. Just wanna say congratulations on your week-young pups


• Philippines
25 Apr 09
oh yeah, you're very witty bjcyrix, how come i haven't think of that, lol! well, i guess, i like the names, whit and oodle, it seems unique and something that makes u ask, why is it so?...i try to call them those names later, and if they respond, well, it means to say they like their names...lol! thanks!

• United States
25 Apr 09
Any cute puppy pics you'de be willing to share? I'd like to post on my blog or website. www.all-about-my-pets.com email pics to charles
@all-about-my-pets
.com. Thanks! Cute kids too btw :)

• Philippines
26 Apr 09
i have a friend who is selling her cute puppies, and she has many pics of her puppies..i will ask her if you are interested to buy.

• India
25 Apr 09
First of all congratulations for two new puppies at your home. I too have a female dog and i searched a lot for her name and ultimately we all agreed on a catoon character name Goofy.. because any other name not all the person in home would agree on. To some i would object, to some my very close friend would and to some my nephew would. The name you choose says as much about you as it does about your dog. It shows how you view your dog and your relationship with it. Some names can cause people to judge a dog and react positively or negatively/fearfully when meeting it. Depending on whether the dog is a pet, therapy dog, search & rescue dog, tracking dog or any other dog that works with the public, it is important to use a name that conveys the proper image. Happy Name of a dog can be on how ferocious u want her to be . The most popular dog name in North America is Sam, Sammie or Samantha (which means "listener"). The second most popular is Max, Maxie, Maxwell or Maxine (which means "the greatest" in Latin). Third is Lady, followed by Bear, Maggie, Buddy, Tasha, Chelsea (or Chelsie), Holly and Shasta. Other very popular names are Brandy, Ginger and Taffy

• Philippines
25 Apr 09
wow the names you suggested are great, actually those names you've mention are names of popular celebrities here in the Philippines, lol! i agree with you, what you name your dog signifies the owner and the dog itself...my dog named Moshi proves it. i name her Moshi because i want her to welcome us everytime we arrive home from work...Moshi moshi, in japanese term..welcome, right? and she really does...and its just good to name her that way..my two new puppies, am still thinking more names to choose from, and i am happy my fellow mylotters gave me more ideas..thanks.