Neopets General Store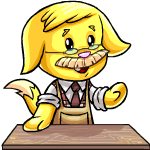 United States
May 4, 2009 9:20am CST
Have you seen the new 24 hour General Store at the website? No long do you have to wait for the shops to restock to get a deal or two. I don't know what the specifics are or if there are a maximum number of things you can buy in an hour. I bought 20 copies of a book there and never got a warning or shop ban. Here is what is there right now: Hot Soup: 146 NP, Coffee And Marshmallow: 69 NP, Kau Kau Farm Milk: 156 NP, Neowaiian Bread: 134 NP, Tangy Tyrannian Cheese And Crackers: 116 NP, Jingly Bell: 76 NP, Neonip Critter: 153 NP, Red Bouncy Ball: 199 NP, Red Mynci Pupper: 174 NP, Long Red hair Brush: 65 NP, blue Mirror: 241 NP, Green Toothbursh: 62 NP, Snazzy Moon Comb: 190 NP, The Big blue Blumaroo: 96 NP, The Cowardly Tuskaninny: 154 NP, Cybunny Diary: 205 NP, Classic Moehog TalesL 229 NP, Koi Pop-Up Book: 300 NP, Blue Shoes: 493 NP, Basic White Shirt: 526 NP, Khaki Trousers: 687 NP, Khaki Skirt: 599 NP, Blue Fishing Hat: 436 NP Most of the stuff is selling there for less that the shops and during Half Price Day (yesterday). Here is the link: http://www.neopets.com/generalstore.phtml?store_type= Happy Restocking!
7 responses

• United States
4 May 09
I went to Neopets randomly the other day because I hadn't been there in quite some time. Well when I got there I saw the General store and was blown away. I didn't know they were going to come up with something like this. However, I like the idea. I think it's cute and think the prices for items in the store aren't expensive. I love that you can buy several things without having to wait on the other shops to restock and the items that they have are very basic, but yet all rather important, needed items. It's a good idea!

• United States
27 Dec 10
I think it is a good idea. One of the things I disliked back when I played neopets was the whole restocking thing. I mean, how ridiculous is it that stores never had anything in stock and that as soon as they stocked something everything would get bought out right away?

• Philippines
20 Nov 09

Sorry for my ignorance but I am not familiar with this. I will not ask you about it but will simply check the site. .. It's quite amazing to hear this.

have a wonderful day.


• United States
20 Nov 09
At first I was really excited when I saw it, then I realized that it is messing with the prices of stuff that I had a ton of in my SDB! It has crashed the price of most of the normal items, very frusturating for people like me who make their millions by sniping and selling.


• Philippines
1 Sep 09
Wow, I haven't been on for a very long time and I am completely unaware of this!! I will check this out asap! OK, I just got books for my neopet! I don't have a shop, but this is great!!

•
3 Jun 09
I couldn't believe it either when I saw it and thought what a good idea now everyone can get items without needing a fast computer. I wish they'd change the items though as it would be nice to get some other items.